It was the prospect of a beach vacation to Mallorca, Spain, that spurred Eva, a 33-year-old music publicist living in Brooklyn, to try to improve her less-than-bikini-ready physique. But instead of embarking on a new fitness plan or a hard-core diet, she turned to an arcane, pricey spa service involving electrical currents.
Proponents of the treatment, which is sometimes referred to as electrostimulation, say it can spur weight loss, tone skin and muscles, and drain toxins.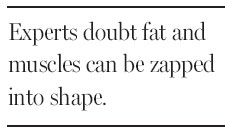 "I needed a quick fix," said Eva (who did not want to give her last name), explaining why she used FatGirlShrink, an hourlong $180 service Bliss Spa introduced in January. The treatment, done on a heated table and involving the application of red algae and guarana extract followed by a clay mask from the bra line to the knees, also uses electrical currents, which the spa says helps with absorption of the extracts and stimulates lymphatic drainage.
But medical experts have doubts about electrostimulation.
"Electrostimulation is one more fad for people who have spent their whole lives gaining weight effortlessly and now want to lose that weight effortlessly and quickly," said Dr. Ronald Sha, the medical director of the Duke Diet and Fitness Center in Durham, North Carolina.
Dr. Jeffrey Morrison, a family practitioner and nutritionist in Manhattan, said, "Electrostimulation is really only a reasonable option for people who are sedentary or who can't otherwise exercise." Everyone else, Dr. Morrison said, "can burn much more calories working out with a trainer and following a healthy diet."
First developed for use in rehabilitation clinics, electrical muscular stimulation became popular in the United States in the 1950s and '60s as part of a so-called passive exercise movement. Now, decades later, the idea has re-emerged among a body-conscious contingent increasingly wary of liposuction and other cosmetic surgeries.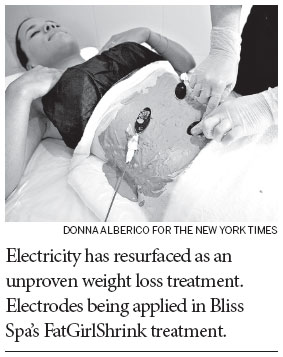 "A lot of my clients are afraid to go under the knife," said Ildi Pekar, an aesthetician in Manhattan. Ms. Pekar's B.E.A.M. treatment, which costs $200, uses electrical pulses to stimulate muscles and encourage elastin and collagen production, and lymphatic drainage, she said.
Camille Obadia, an aesthetician who owns Beaute Oblige in Manhattan, says her clients would have to work out for four hours to achieve results her electrostimulating treatment ($300) can accomplish in 45 minutes. "Who has time to go to the gym?" she said. "Time is money."
But there is ample reason to be skeptical. "It is very clear there are no high-quality studies that show that a commercially available device can do anything to change your appearance," said Gary Calabrese, a physical therapist and director of Sports Health and Orthopaedic Rehabilitation at the Cleveland Clinic in Ohio.
Though electrostimulation devices are sometimes used during physical therapy, it is in conjunction with a patient working out, Mr. Calabrese said; for example, one might get an uncomfortable jolt that forces the muscles to perform a bicep curl.
"If you're wearing one of these devices and it cues you to do a situp and then you don't do the situp, then you are doing absolutely nothing," he said.
As for the firmed-up appearance some people say they receive from these treatments, "they are probably changing their eating habits and exercising more," Mr. Calabrese said. And for approximately 20 to 40 minutes after the use of a device, muscles may appear or feel more "pumped up" because of increased blood flow to the treated area, he said.
The New York Times