US surgeons bring healing to orphans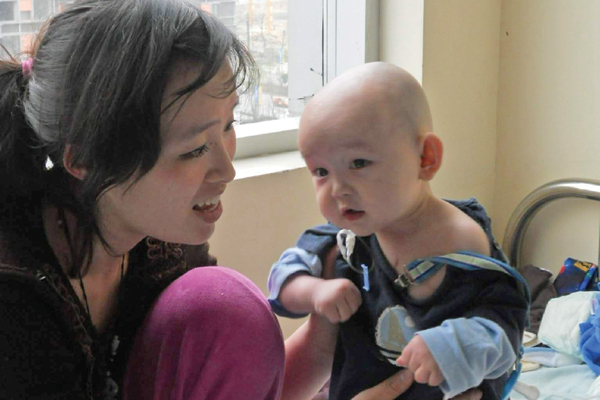 Zhang Tong, a caregiver from the Starfish Foster Home in Xi'an, Shaanxi province, plays with an 11-month-old, after the girl born without an anus underwent a successful operation by the CCPF team to create an artificial anus. Huang Zhiling / China Daily
The 4-year-old boy stared for the first time at his surgically separated fingers and toes.
Then, he put a finger in his nose.
"It was one of the most touching moments on the Chengdu trip," surgeon David Roye says.
Roye was in Sichuan's provincial capital Chengdu, performing surgeries on orphans with the Children of China Pediatrics Foundation (CCPF).
When the director of pediatric orthopedic surgery at Columbia University Medical Center was first asked to assist CCPF's China mission in 1998, Roye said he would go - but only once. He's been back every year since.
He performed six of the 35 surgeries the 25-member CCPF medical team undertook in Chengdu this March.
Nearly 40 children arrived from orphanages, but some couldn't be operated on because of high fevers and malnutrition, 26-year-old volunteer Shen Liying says.
The doctoral candidate from the Harvard School of Public Health and medical student in Nanchang University recalls working as an intern at the university's affiliated hospital when CCPF offered free operations there for 10 days.
"I was impressed by the team members' respect for life," she says.
"No matter the difficulty of the operation or the criticalness of the patients' conditions, the CCPF doctors treated them like they were their children and never gave up," Shen recalls.
"After working with them, I decided I would work in public health and forfeited my chances of becoming a doctor."
Since its 1998 founding, the US organization has partnered with China's Ministry of Civil Affairs to offer free operations to Chinese orphans with cleft palates, cerebral palsy and urinary and orthopedics problems every year.
Its team has since performed surgeries on more than 600 orphans in various Chinese cities.
Most surgeons personally finance their travel and living expenses. The team members use their vacation time to work in China.
Most children in the country's orphanages have disabilities. About 87 percent of the 66 children at the Chengdu Orphanage, for instance, were born with disabilities.
CCPF will partner with the orphanage and hospital to start a rehabilitation-training program next year.
Some children require multiple operations.
"There are some cases that we are unable to operate on because our time spent in Chengdu is not long enough, and some children's condition requires multiple procedures which we can't accomplish in the time we have," Roye explains.
"So our plan is to do these procedures in several phases. That allows us to treat the children over several years. We have good results this way, but it takes longer than is optimal."
For example, 6-year-old Hu Aiping's fused toes were separated this year. The CCPF team will separate the fingers of the boy from Sichuan's Zhongjiang County Orphanage next year.
"The number of operations is not important," Roye says.
"It is the quality that matters."
Dean of the Orthopedic Department of the Chengdu Women and Children Central Hospital Wang Suming says his hospital is thankful for the opportunity to cooperate with CCPF.
"Our hospital is in inland China, so we don't have many opportunities to exchange with the outside," Wang says.
"We've benefited greatly from preparing surgical operations, discussing cases of patients, studying and comparing notes with our US counterparts."
Two orthopedists, two plastic surgeons, one urological surgeon, two general surgeons and five anesthetists joined the Chengdu mission. Many of them, such as Roye and John Connor, are very important in their fields.
"Roye is among a dozen of the world's best doctors in surgically treating scoliosis," Wang says.
The CCPF medical team gave three lectures at the Chengdu Women and Children Central Hospital.
They didn't use their time to visit any scenic spots.
"At 8 am every day, they did their rounds and had lunch in the operating room," Wang says.
"Sometimes, they did not leave until 7 or 8 pm. They stayed to prepare for the next day's operations."
Their last day was spent dispensing food and medicine they had purchased at the Chengdu Women and Children Central Hospital.
"Both the professionalism of the CCPF medical team and the thankful hearts of the kids have prompted us to work as volunteers," Shen says, fighting back tears as she says goodbye to 6-year-old Lin Zhang, who underwent surgery for hypospadias during this year's CCPF mission.
Zhang Tianxiao contributed to this story.
huangzhiling@chinadaily.com.cn