'Panda tea' steeped in controversy
CHENGDU - Tea fertilized by the dung of giant pandas has provoked controversy in Southwest China's Sichuan province, with a local entrepreneur applying for a world record for the tea's whopping price tag.
An Yanshi, a local businessman and calligrapher, has been growing "panda tea" fertilized with 10 tons of giant panda dung since last November in the city of Ya'an.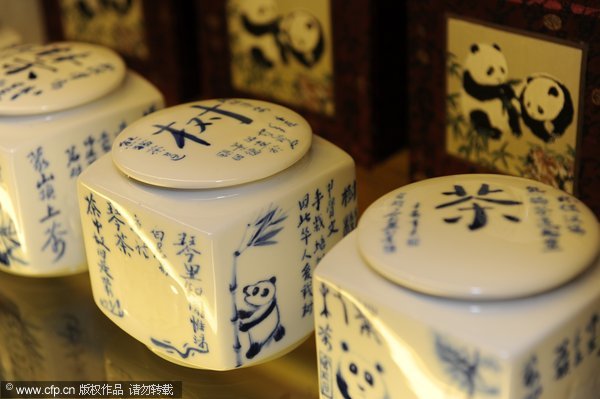 Panda Tea, fertilized with panda dung, for sale in Chengdu, capital of Sichuan province, March 27, 2012. [Photo/CFP]
An is charging 20,000 yuan ($3,175) for every 50 grams of tea, hoping to make it into the Guinness Book of World Records with his sky-high pricing. An said he plans to sell just 21 batches of tea at 50 grams per batch every year.
An said he chose the price based on the tea's restorative capabilities, which he claims are the result of using panda dung to grow the tea.
"Pandas eat natural bamboo leaves without any additives, which makes their dung the best fertilizer. The tea leaves also have an anti-cancer function, which I believe was strengthened by using such good fertilizer," An said.
However, An's claims have been widely doubted by academic experts.
"While green tea can help to prevent and cure gastrointestinal tumors, there is no evidence to show that panda dung can enhance this function," said Dr. Shi Jun from the Institute of Botany under the Chinese Academy of Sciences.
"In addition, there have been no scientific reports indicating that bamboo leaves can prevent cancer. Even if the leaves were found to have cancer-preventing properties, there is no way the properties could be transferred to tea leaves," Shi said.
Another expert conceded that An was correct in his use of panda dung as a fertilizer, but went on to say that the dung has no ability to fight cancer.
"The panda dung is truly good fertilizer, but it does not have the ability to create cancer-preventing plants," said Zhang Hemin, director of the Wolong Giant Panda Protection Research Center.
An originally came up with the idea to use panda dung after attending a seminar at which he learned that giant pandas only use about 20-odd percent of the nutritious value of the plants they consume. An concluded that the remaining nutrition must be maintained in the pandas' dung.
"It is extremely difficult for panda dung to have any special effect on the growth of tea," said Dr. He Yijian from the University of North Carolina.
Some people have compared the "panda tea" to civet coffee, a type of coffee that is made from the beans of coffee berries that are eaten by Asian palm civets and passed through their digestive tracts, He said.
"While both are derived from dung, the taste of the coffee is changed during the digestive process, while the taste of 'panda tea' has nothing to do with the bamboo leaves," he said.
Although some netizens have insisted that An created the tea purely for financial gain, he has stated that he grew the "panda tea" not just out of profit considerations, but also as part of his passion for environmental protection.
An said that he will donate all profits from the tea to the Environmental Volunteer Alliance, a non-governmental organization that he plans to establish himself.
"The profits will be used for environmental protection. I welcome the media and tea buyers to supervise," An said.