Cuisine lexicon offers tasty food for thought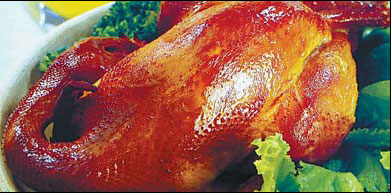 Tongziji
Wrong translation: Chicken without sex life
Standard translation: Spring chicken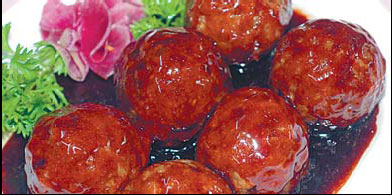 Hongshao shizitou
Wrong: Red burned lion head
Standard: Braised pork ball in brown sauce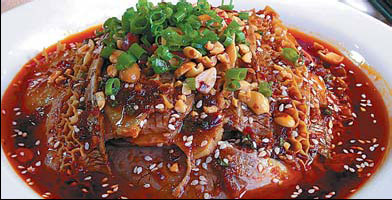 Fuqi feipian
Wrong: Husband and wife's lung slice
Standard: Sliced beef and ox tongue in chili sauce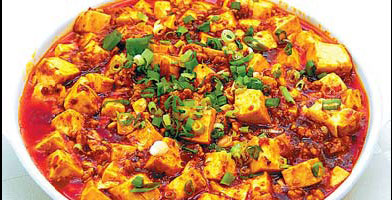 Mapo doufu
Wrong: Tofu made by woman with freckles
Standard: Mapo tofu (sauteed tofu in hot and spicy sauce)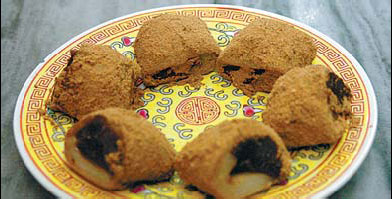 Ludagunr
Wrong: Rolling donkey
Standard: Ludagunr (glutinous rice rolls stuffed with red bean paste)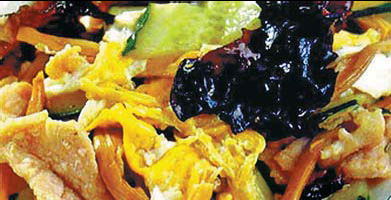 Muxurou
Wrong: Wood mustache meat
Standard: Muxu pork (sauteed sliced pork, eggs and black fungus)
When you ask a special someone out, you carefully pick a fancy restaurant, reserve a table near the window and hope for a beautiful night.
Everything works toward a romantic atmosphere, at least until a waiter politely asks: "Do you want to try our 'husband and wife's lung slice'? It's today's special."
"That is one of the most horribly translated Chinese cuisine names. I've heard many of my foreign friends complain about it," said Chen Lin, a professor at Beijing Foreign Studies University.
"You won't know what's in the dish from the name, and you definitely don't dare to try it."
The dish, fuqi feipian, literally husband and wife's lung slice, is actually sliced beef and ox tongue in chili sauce, a famous cold dish in Sichuan.
Similar translations of Chinese dishes have confused foreign visitors to Beijing for years. But now, the municipal office of foreign affairs is trying to end this by publishing a book on English translations of dishes.
Chen Lin, head of the expert committee that created the book, said it was a new effort to promote Chinese culture.
"Chinese cuisine is an important part of Chinese culture, and Chinese food has become popular across the globe in recent years, so it is high time for us to standardize the translation, to name the ingredients, how its cooked and the cultural content," Chen said.
Chen said some dishes have stories behind their names. Take kung pao chicken for example. "Kung pao" was an official title during the Qing Dynasty (1644-1911), and the inventor of the dish, Ding Baozhen (1820-1886) possessed the title. So his title was used to name the dish.
"In the book, we preserve as much historic information as possible, so that the stories implied by the names will be complete," Chen said.
The municipal government has tried to regulate English menus in restaurants since 2006. In that year, the government published its first official translation and sent it to restaurants, though its use is not mandatory.
In 2008, to improve the service for foreign visitors, the government promoted the translation in more than 1,300 restaurants near Olympic venues.
According to written material released to China Daily, the foreign affairs office amended the old version, and added 310 new dishes and more pictures in the new book, but its use is still not compulsory.
Zi Yunxiao, marketing communications manager of the Westin hotel in Beijing, said the standard translation would be a good reference for them.
"However, we won't use the translation completely, because our chef sometimes develops new dishes, so we have to think of different names sometimes," Zi said.
"I think the book would be a great help for people who do not speak much Chinese, like me," said Olinkend K.R. Green, a 21-year-old from Canada.
"When I go to a Chinese restaurant I sometimes find the names a little complicated, and not every restaurant has an English menu. So I have to look at the picture on the menu to guess what is in the dish, and point for the waiter, I want this, this and this."
The food name that attracted most attention of Chinese netizens is tongziji (literally baby chicken), which was mistranslated as "chicken without sex life" on restaurant menus. The book gave it the name "spring chicken".
Chinese netizens were fascinated with the name. By Wednesday afternoon, there were 22,377 messages on the topic on Sina Weibo, the Chinese equivalent of Twitter.
"It will be good that every restaurant uses the same spelling, so you will be able to get the dish you want," said Simon Betz, a 23-year-old from Germany.
"But I think it is also kind of funny if you let the restaurants decide what they name it. Isn't it just cool that someday you order a 'chicken without sex life' somewhere?"