Are you what you eat? The mixing pot offers some food for thought
"Billionaire", "poison", "cat stew". If the first two words promise a front-page story in the local edition, the last two guarantee it gets worldwide attention.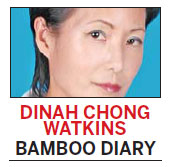 Long Liyuan, 49, died in December in wealthy Guangdong province after sharing a dish of slow-boiled cat meat stew with two men over a business lunch.
The killer, one of the other men dining, was accused of slipping a toxic herb in the stew as he had been embezzling Long and was on the verge of being found out.
Although poisoning your boss is sort of run-of-the-mill, cooking up a hotpot of cat stew is not, except for the Cantonese who are famous for eating anything that's not nailed down.
While cat lovers around the world shudder in horror, the Cantonese dish "dragon, tiger, phoenix" - consisting of snake, cat and chicken - is popular as a traditional winter meal, said to replenish the body's yin in the colder months.
That the kitty is seen as a pet, and not an ingredient, only reinforces our cultural differences and upbringings. But, in many ways, what we eat reflects who we are and what we believe in.
And while eggs and hot-cross buns are staples for Easter in the West, Chinese families will ring in the year of the Dragon with foods associated with success - fish (abundance), sea moss (prosperity) and noodles (longevity).
Another specialized dish popularized in Singapore but making its way now through Asia is yu sheng or "prosperity toss". Consisting of raw fish, shredded vegetables, peanuts, jellyfish and assorted candied and salty condiments, the higher it's tossed in the air by diners, the greater the fortune they can hope for in the New Year.
That it taste like a salad of cold salmon accented with sweet and sour gummies limits it, thankfully, to a once-a-year appearance on the menu.
For the US, the days of a chicken in every oven and a can of the lunchmeat Spam in every cupboard ended in the 1970's.
The Beatles brought not only psychedelic rock to the mainstream but something kookier like not eating meat. Linda McCartney, Paul's late wife was one of the first celebrities to tout a lifestyle of rice and beans. Evolving from that granola group sprang vegans, organics, raw foods, macrobiotics and gluten-free diets, making the dinner service a heaven for picky eaters and hell for dinner hosts.
Many wives, upon tasting their mother-in-law's cooking for the first time, will agree it's not as fantastic as their husbands rave about.
In fact, it's quite average and they have a recipe from Bobby Flay that is much better.
But don't expect any accolades because Mama's cooking isn't the best because she's a great cook but because that's what hubby was raised on. Until I was in high school, I thought the proper condiment for French toast was ketchup, the idea of butter and syrup made me cringe.
Our conditioning can even pop up in unexpected places.
Landlocked in the US' heartland for three years and subsisting on a diet of meat and potatoes, I caught myself salivating in the city aquarium while looking at the fish.
Schools of groupers, flounders and sea bass swam titillatingly close, teasing me behind thick hardened acrylic glass.
Food is complex - not only in the production of it but also in how it shapes our behaviors, memories and lifestyles.
What distinguishes a person with multiple dogs from being a pet lover to a livestock rancher? Is it culture, beliefs or taste?
Once, on a wintry Beijing night, we scurried to a no-name Mongolian grill.
On the crusty laminated menu there was the usual beef, chicken and pork and, to our surprise, dog.
When the meat arrived, we laid the slices on the hot iron BBQ. It sizzled with sweet smoke. As we began to eat, I jokingly told my 7-year-old son that it was dog meat.
He looked up for a second, swallowed and then said: "Are there seconds?"