Chef as artist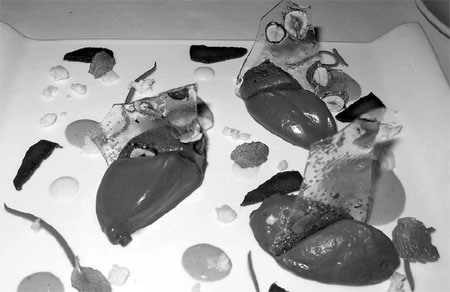 In the chocolate mousse platter, quenelles of the cocoa confection masquerade as ships, with "sails" of sugar glass studded with bits of hazelnut. Photos by Mike Peters / China Daily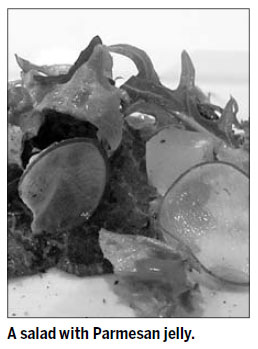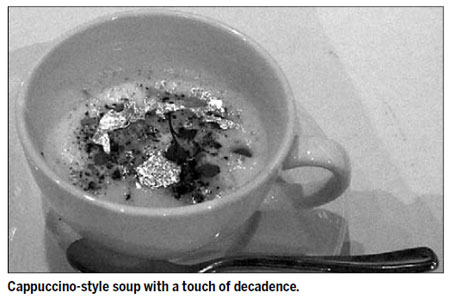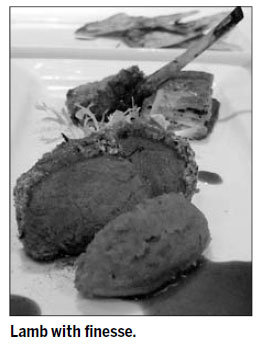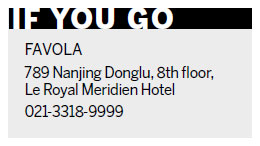 Tino Giuseppe's new menu at Favola is his latest brush with food as art, Mike Peters reviews his works.
To hear executive chef Tino Giuseppe talk about the way he creates menus at Le Meridien's upscale Italian restaurant at People's Square, you might think taste is a secondary consideration.
He has notebooks going back years - and now an iPhone crammed with daily jottings - in which he's collected ideas, tastes and compositions, a word that lingers on his Italian-accented tongue.
"I see a plate like this," he says, his hands in the air as if placing morsels of this with nibbles of that on a plate.
"Maybe 60 percent of the time, I can actually execute it. But I am a young chef, 31, so that doesn't worry me. Sometimes I go back to an idea in a year, or five years, and I have new experience that makes it possible."
Giuseppe's fascination with the visual doesn't mean taste is less important, as reviews attest.
He's won raves for sensual complexities - such as his mushroom risotto, a tantalizing fugue of traditional carnaroli rice from northern Italy, morels, goat cheese, lemon zest and "duck juice" served in a small glass milk bottle - and his "simple" wood-fired Neapolitan-style pizza that some swear is the best pie in town.
The chef sent our taste buds singing with his Wagyu Beef carpaccio, which he cures in lemon salt to extract water and make the meat soft, almost buttery. The thin-sliced beef is tossed with organic greens, cubes of Parmesan jelly he makes himself, and sour strawberry dressing.
Next came Paccheri de Gragnano "Garofalo", hearty pasta tubes tucked amid prawns and New Zealand mussels with dribbles of broccoli-lobster cream sauce.
Later, when spring warms the zucchini plants into bloom, Giuseppe will seek those flowers at the market to add color to the dish. Right now, garnishes of basil and cherry tomato deliver a sweet counterpoint to the savory pasta and seafood.
In the elegant environs of this five-star European hotel - where you can follow up your meal with a drink at a 66th-floor bar and its commanding view of Shanghai's night skyline - food has to taste as good as it looks.
Sixty percent of his ingredients are imported from Italy, he says. Certain micro greens, fresh venison, chilled black pig from Spain ("really red meat, not pink") and other choice items mean that some dishes command a premium price.
"But the taste is great," he says, beaming, "and you know what you're eating.
A good relationship with your suppliers is key, he says: "I like to be the first to try something, and they know that." Once a "found" item has been around for a year, it becomes common in many restaurants, he says.
One of his latest finds in China is a soft cheese that originates in South Italy.
Vurrata D'Andria is a mixture of sliced mozzarella and sweet cream cured in an elastic cheese bag - "a slow-food concept" - that becomes a super-simple pizza topping with a very distinctive taste.
There's nothing simple about our next course, a cappuccino-style soup that's frothy with shavings of goose liver, chocolate and 18-karat gold. Delicious, but a bit over the top on art and luxury?
The chef grins in unabashed complicity.
He once worked in Dolce & Gabbana's VIP restaurant called Gold, he says, where "everything was gold!" The tiny shards of precious metal in the cup at Favola, he says, give similar hints of luxury, art and fun.
Our entre is sirloin of lamb crusted in crumbled herbs. The slices of meat are placed on the platter amid puddles of a Marsala wine sauce made with honey and veal drippings ("using lamb would make the sauce too strong", the chef says).
That's served with a black truffle and potato milfoil with a cheese crusted top, and purees of tomato (spiked with olives, capers and lemon) and green pea cooked with butter and shallots.
We finish with a platter of chocolate mousse that looks like a painting: four dollops of the cocoa confection look like ships of old, with "sails" of flat sugar glass studded with bits of hazelnut. Surrounding these conceits are bits of pear cooked in red wine, almond "snow" and dabs of pistachio cream.
Some of these dishes are on Favolo's seasonal menu, some on the "chef's table" menu that changes monthly - available at three window-side tables.
Why stir things up so often?
"I like to keep it interesting," he says, both for returning customers and for himself. "We know the 'classic Italian', he says, but a quality restaurant (and perhaps an ambitious chef) "needs to be able to surprise, to deliver something extra".
Average price per person: lunch set at 138 yuan ($22) plus 15 percent service fee; three-course dinner around 500 yuan per person.