Delicious fishes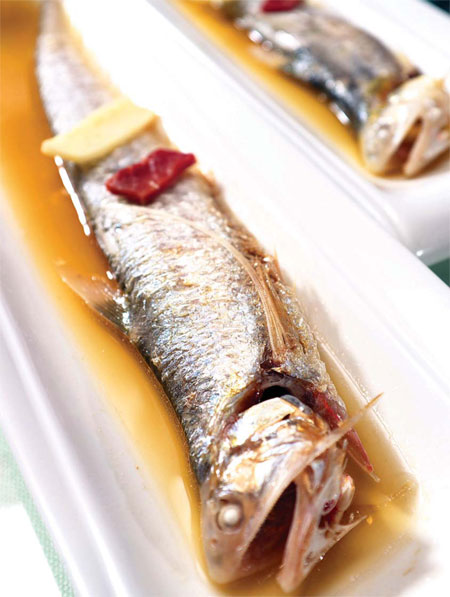 Steamed knife fish is served at Huaiyang Fu Restaurant. Lu Di / for China Daily
Spring brings a bounty of sensational seafood from the Yangtze River to Beijing's dining scene. Ye Jun reports.
Springtime is when the capital's eateries are awash with seafood, including some of the rarest fish and shrimp. Much of this bounty comes from Huaiyang cuisine, which is one of the country's four major culinary styles. It's the regional fare of Huai'an, Yangzhou and Zhenjiang in Jiangsu province. In a broader sense, it refers to food from south of the Yangtze River, including that from Jiangsu, Zhejiang, and Anhui provinces.
The area was among China's busiest business hubs in ancient times. It's laced with convenient water traffic routes that run through the Grand Canal and Yangtze River.
Businesspeople boosted the local restaurant industry, as is recorded by many Qing Dynasty (1644-1911) gourmets, such as Li Yu and Yuan Mei.
The cuisine is famous for its meticulous knife cuts and light flavors. But it's best known for river fish, which come into season in March and April.
Chinese fish fanatics can call eating daoyu (knife fish) - taper-tailed sauries endemic to the Yangtze - a culmination of their seafood sampling careers.
Knife fish have carved out for themselves the top spot of the tasty triumvirate known as the "three delicacies of the Yangtze". They're the scarcest - and, consequently, the most expensive - fish in the country.
Shiyu (reeves shads) take the second spot, while blowfish occupy the third.
All three species are said to taste best around Qingming (Tomb Sweeping) Festival, which falls on April 4 this year.
Knife fish is particularly seasonal. It's said the fish tastes especially tender and the bones are much softer before Qingming, but the flavor diminishes and the bones harden after.
So there's a huge price difference for Yangtze knife fish before and after Qingming.
Last year, fish weighing more than 100 grams cost up to 3,300 yuan ($524) per 500 grams.
So, a fish weighing 150 grams - making it about the size of your palm - costs more than 1,000 yuan. That's even more than the region's prized hairy crabs.
But the prices plummet to as low as 30 yuan ($4.76) per 500 grams after Qingming.
Daoyu from rivers other than the Yangtze, lakes or the ocean are believed to not taste nearly as good.
I recently enjoyed my first opportunity to try this delicacy at Beijing's Huiyang Fu Restaurant.
It was indeed the most succulent fish I've ever eaten.
But there were so many tiny bones that you must patiently sort them out with your tongue. Although the bones are soft as hair, if you eat them too fast, they might stick in the throat.
Another reason the Yangtze knife fish costs so much is that it's the only wild species of the "three delicacies".
In addition, the fish is becoming more difficult to catch, which is further ratcheting up the price. Local fishery officials are discussing plans to breed the fish to meet market demand.
Reeves shads and blowfish are already aquaculture.
Wild reeves shad disappeared from the Yangtze in 1996 because of overfishing.

Inhabitants of areas along the Yangtze have long maintained a tradition of eating blowfish but often died from improper preparation, as the fish contains poison. But blowfish from aquaculture are said to be completely toxin free. Some restaurants even offer blowfish livers - said to be the most toxic part - but few dare order them.
Regions with the custom of eating blowfish in Jiangsu and Zhejiang host specially licensed chefs, who prepare the delicacies. Bred blowfish are available in many cities across the country, including Beijing, although it's officially illegal.
Blowfish is known for exquisite meat and skin that tastes like rice.
Those from the ocean are made into sashimi because they are more elastic. Varieties from rivers are sometimes braised in sauce.
Reeves shad is served with the scales on, because local people savor the richness of the fat underneath. It's also often braised in rice wine sauce, and served with preserved pork and bamboo shoot slices.
Knife fish is usually just steamed and served with a minimal amount of salt and soy sauce. Their skeletons are deep-fried until golden and crispy.
These delights can all be enjoyed in a traditional Anhui-style courtyard setting at Huaiyang Fu Restaurant.
Many Huaiyang restaurants in Beijing also incorporate popular specialties from Shanghai, Jiangsu's Suzhou and Zhejiang's capital Hangzhou.
Beijing's Guazhoudu restaurant offers tender steamed whitefish from Taihu Lake, which separates Suzhou and Wuxi in Jiangsu.
Popular in Beijing is shelled shrimp with longjing (dragon well) tea. The dish is usually served on a beautiful bamboo or wooden tea set, with tiny cups of longjing tea and a saucer of soy sauce for dipping the shrimp. It's said a cup of tea beforehand can enhance the flavor of the shrimp. Because small river shrimp from the region are so fresh, they are often just boiled in water or flash-fried in oil with a touch of sweet flavoring.
Summer Palace Chinese restaurant at China World Hotel also offers Huaiyang food.
Chef Hou Xinqing makes a fantastic shelled shrimp with soy sauce. The dish is simple but tastes great, because the cooks shell fresh shrimp every day.
Another must-try at Huaiyang-style restaurants is "soft bagged long fish", which actually refers to eel. Boneless eel is braised with garlic, rice wine and soy sauce, and served in porcelain pots.
Other Huaiyang specialties include brown-braised pork meatballs with water chestnut, boiled soybean slices in broth and crab-roe-stuffed buns. Bamboo shoots from Mount Tianmu are some of China's best.
Huaiyang Fu Restaurant makes a fantastic fried bamboo shoot with shepherd's purse.
Tang Dynasty (AD 618-907) poet Li Bai once wrote: "Get to Yangzhou amid the haze and flowers of March."
The line has coaxed many Chinese gourmets to visit the area in springtime, when the fish are tastiest. Diners who can't make it to the region during the season can still get a taste of its splendor in Beijing.
You may contact the writer at yejun@chinadaily.com.cn.