Birds that are just chicken lickin' good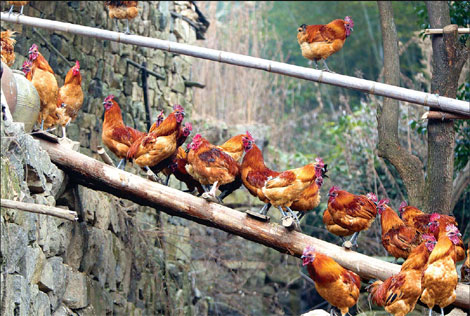 The chickens reared by Yang Sizhong are said to be unafraid of foxes and eagles. Yang says he doesn't believe in modern technology and uses traditional methods, exercise and good quality food. The birds and their eggs fetch a premium price that many discerning customers are willing to pay. Gao Erqiang / China Daily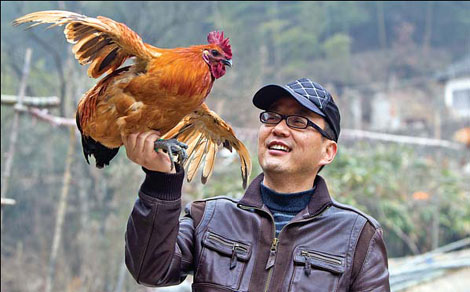 Yang Sizhong with one of his superior chickens at his farm in Yuyao, Zhejiang province. Gao Erqiang / China Daily
YUYAO, Zhejiang - If music be the love of food, lay on. Apologies to William Shakespeare but the revised sentiments of the opening lines of his play Twelfth Night apply to Yang Sizhong's chickens run perched on the bamboo-covered mountain on the outskirt of Yuyao, East China's Zhejiang province.
Yang plays violin compositions by Amadeus Mozart to his flock of 4,000 simingjinfeng fowl in the belief it soothes them and makes for better eggs and meat.
They are certainly a special breed and people are happy to pay a premium for them.
"These birds are the least chicken chickens in the world," said Yang at the two-acre plot he established. "They can scare off eagles and fight off snakes, fly as high as 200 meters and run faster than human beings."
The former marketing manager of a top menswear company charges 1,088 yuan ($170) for each of his heroic feathered friends - more than 10 times the usual price. The eggs, which have pink, blue or green shells, cost 20 yuan each - 20 times the normal rate.
Yang attributes the popularity of his chickens to the growing concern for food safety in China.
Born and bred on a remote island near Shanghai, the 45-year-old recalled how his childhood was threatened by a scarcity of wholesome food and polluted seawater. He witnessed many friends, neighbors and relatives dying.
"I guess I have an inborn concern for the quality of the food we eat every day," said Yang. "I find my concerns increasing with age, like the grey hair on my head."
When Yang became a father two years ago he decided to do something about it.
"All I want is my family and loved ones to be safe and sound. Then, if possible, help a few others' family and loved ones lead a safe and healthy life," he said.
Yang found the location in a pristine bamboo forest in a village that had been vacated for more than two decades. It was near Yuyao, a 1,000-year-old town believed to be where Chinese agriculture started. He started his chicken business with an outlay of 1 million yuan in June.
The facilities are nothing special. The chickens roost in deserted cottages and there are rows of fences - not to keep the birds from escaping but used as hurdles to improve their flying. The only equipment that stands out is a pair of loudspeakers hung from the roof of one of the cottages and used to play the music.
"I don't believe all those modern and high-end technologies. I just want to raise my chickens in the most natural way because my chickens have been congenitally refined by nature," he said.
Simingjinfeng fowl originated in Sichuan province and are known locally as golden phoenix.
Their feed is very carefully selected. Aside from the staple diet of corns, wheat and worms, they are also fed with traditional Chinese medicines to ward off disease. The water they drink comes from mountain spring running down hill, which "may be more fresh than what we drink", said Yang, who believes his chickens are the most athletic and their meat juicy, perfect for making chicken soup when they reach 6 months old and weigh 2 kilograms.
"The meat not only has surprising taste but is good for one's health, improving people's immune systems," said Yang.
The farmer has sold hundreds of chickens in the past six months. Most are bought by high-end restaurants, healthcare centers and individuals who, he said, "know how to appreciate the value of the chickens".
"I have been prepared for the worst - the chickens dying of flu, my secret recipe not working out or people simply not being interested in my super-expensive birds," said Yang. "Yet, as it turned out, I have been overwhelmed by the response, winning unswerving support from my family and local government and getting lucky all along."
Yang is not the only chicken farmer in China overwhelmed by a big demand for expensive chickens that boast healthy qualities.
In Qingzhen, Guizhou province, veteran farmer Yang Tianpei invested 3 million yuan for 4,000 "heart-nourishing chickens" - in Chinese, yangxinji - in 2008, after his "heart-nourishing vegetables" sold like hotcakes in Beijing.
Following a similarly strict and humane approach, the Guizhou native hired a special "coach" to have his chickens run 2.5 kilometers a day, regardless whether it rained or snowed, to "improve the muscle" of the birds, and fed them with "a few sips of alcohol". Each of the chickens costs around 900 yuan and have proved to be very popular in big cities across the country.
Encouraged by his successful business, Yang Sizhong has started to expand into raising other animals.
"By summer, there will be pigs, sheep and cows all over there, with orchards and crops being cultivated in between," he said, pointing at the neighboring mountain top, which is almost barren now.