Thai style is capital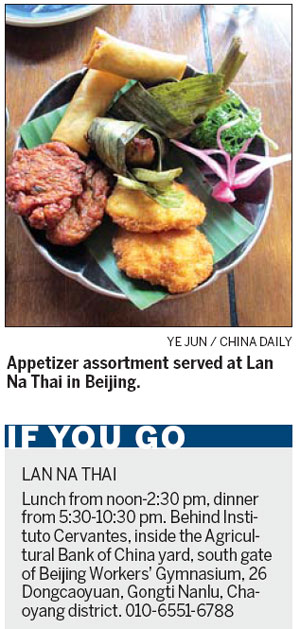 Although Face Bar has been popular among expats in Beijing for some time, it was only recently that I tried its restaurant, Lan Na Thai. It was a Thursday lunchtime and I was a bit surprised to find how quiet it was.
I was impressed by the amount of effort spent on the interior decor, both for Lan Na Thai restaurant, and Hazara Indian restaurant just next to it, divided by a glass door. There were plenty of Thai-style statues and antiques, and 19th century teak carvings. Along with the lanterns, and village art pieces, it lent the restaurant an exotic ambience.
Lan Na Thai is a 45-seat venue comprising a verandah overlooking a garden, an alcove for parties and two private rooms. At this time of the year, it is comfortable during the afternoon to sit on the verandah, with sunlight pouring in, to admire the garden and spend a peaceful hour or two.
Lan Na is a northern Thailand tribal area associated with rice growing. The word "Lan Na" literally means "a million rice fields". But the restaurant's cuisine is based on more than one area of Thailand and tries to reflect the complexity of the country's food.
Papaya salad with cashew nuts is a sweet and sour opener, the fish and prawn cakes were perfectly done, golden, crispy and soft-centered. Sauteed prawns with garlic and pepper sauce were also tempting. Yellow curry with broccoli and carrot slices has coconut cream in it, and goes well with a bowl of aromatic Thai rice. We wound up with a bowl of coconut sago juice and banana.
After the dinner we were shown around Face Residence on the 3rd floor. The design of the rooms is impressive, with a lot of Chinese elements, yet equipped with all the modern conveniences.
A formal dinner at Lan Na costs about 300-500 yuan ($47-79). The garden has a fish pond with colorful and lively gold fish, and a pavilion with a Thai Buddha. It is a good place to hide away from the chaos of daily life in the capital.