Sweet potato soup with ginger, leek and apple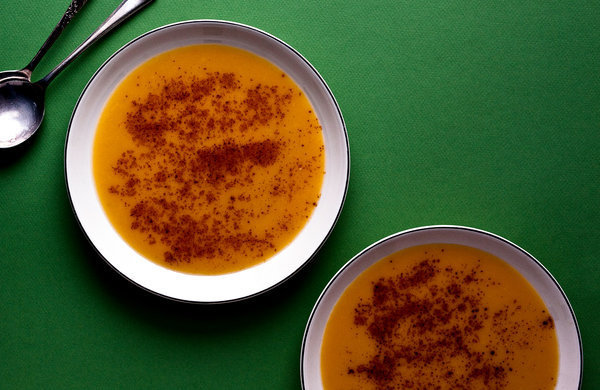 Sweet potato soup with ginger, leek and apple [The New York Times]
2 tablespoons canola oil or butter
2 leeks, white and light green parts only, cleaned and sliced
4 teaspoons minced fresh ginger
2 1/4 pounds orange sweet potatoes (like jewel yams or garnet yams), peeled and diced
1/2 pound Yukon gold or russet potatoes, peeled and diced
1 to 1 1/4 pounds tart apples, like Braeburn or Granny Smith, peeled, cored and diced
2 quarts water
Salt to taste
Fresh lime juice and medium-hot chili powder or chipotle chili powder for garnish
1. Heat the oil or butter in a heavy soup pot or Dutch oven over medium heat. Add the leek and cook, stirring, until it is tender, about 5 minutes. Add the ginger and stir together until fragrant, about 1 minute. Add the sweet potatoes, regular potato, apples and water and bring to a simmer. Add salt to taste, reduce the heat, cover and simmer 45 minutes to an hour, until all of the ingredients are thoroughly tender.
2. Using an immersion blender, purée the soup (or you can use a regular blender, working in batches and placing a kitchen towel over the top to avoid splashing) until very smooth. Return to the pot, heat through and adjust salt. Ladle into bowls, squeeze a little lime juice and sprinkle a little chili powder over each serving and serve.
Yield: 6 to 8 servings.
Advance preparation: You can make this a day ahead, but it's best freshly made.
Nutritional information per serving: 255 calories; 0 grams saturated fat (if oil is used); 1 gram polyunsaturated fat; 3 grams monounsaturated fat; 0 milligrams cholesterol; 51 grams carbohydrates; 8 grams dietary fiber; 101 milligrams sodium (does not include salt to taste); 4 grams protein