Phantom fish hotpot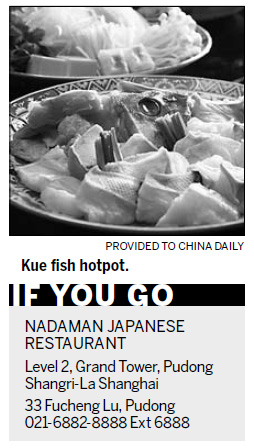 Shanghai
To eat hotpot in winter is nothing new to write about, but when the hotpot features kue fish, then it's a rare and luxurious indulgence.
Kue, also known as longtooth grouper, is a very rare and exquisite Japanese sea fish. It is reputedly known as the "phantom fish", and its flavor is the epitome of luxury. For the Japanese, the kue stands above all other fish, including the much-loved fugu, or puffer fish.
Nadaman Japanese restaurant at the Pudong Shangri-La Shanghai is offering the fish this winter, the best season to eat it as the kue is at its prime. The fish is served in a hotpot, which enhances its light and delicate flavor and is the most popular way to eat it.
It is not cheap - with prices starting from 1,200 yuan ($188) with a 15 percent service charge.
To make sure the fish is prepared at its best, ask the waiter to help you so the fish is cooked just right.
The fish is blanched in a light fish broth, as clear as water, to emphasize the original flavors. The fish meat is crystal white, firm and juicy, with just the right proportion of fat. Since almost no seasoning is added in the pot, you'll want to dip the slices in the slightly spicy Japanese sesame sauce.
The very chewy skin is the essence of the dish - being extremely rich in collagen, and especially recommended for women.
Tofu and vegetables like Chinese cabbage, hothouse chives and mushrooms are cooked together with the fish. The sauce by the side for the vegetables is ponzu based. Made with vinegar, katsuobushi and seaweed, the sour dip is great with vegetables. Another delicious side is the chewy rice cake. The kue fish hotpot is available at Nadaman for both lunch and dinner until the end of December.