Tradition and science brighten up dining scene
The capital's dining scene has been brightened up by the arrival of world-acclaimed Michelin star chefs from Spain and France.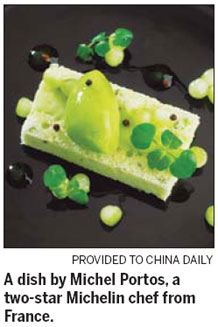 Spanish avant-garde chef Ferran Adria's recent visit was complemented by the arrival of colleague and two-star Michelin chef Dani Garcia, who was teaming up with Jaan Restaurant at Raffles Beijing Hotel, to present innovative food for lunch and dinner from Wednesday to Friday.
Garcia was awarded a Michelin star for his first restaurant Tragabuches in Spain's Ronda in 2000, and another for Calima in Marbella, Spain.
He uses science to create novel textures and flavor. He was the first chef in Spain to use liquid nitrogen, cooking at a temperature of -196 C. He also combines inventive cooking methods with a traditional approach.
His most popular dishes at Jaan included a vegetable salad with a unique looking and tasting "nitrogen" tomato stuffed with pipirrana, and a tasty oxtail stew wrapped in ravioli.
Michel Portos, a two-star Michelin chef from Bordeaux, France, will visit Cepe restaurant at The Ritz-Carlton Beijing. From Aug 27 until Sept 3, he will present such dishes as foie gras de canard, grilled sardines and turbot with sea urchin.
Portos is the chef and director of The Saint-James, a Relais & Chateaux boutique hotel with three restaurants designed by renowned French architect Jean Nouvel. He has visited Hong Kong three times, but this is his first time in Beijing. He has sampled Chinese cuisine and likes Sichuanese and Cantonese dishes.
He intends to prepare Mediterranean-style cuisine, with the idea of matching French and Chinese culture. He describes his style as clean, visual, tasty and "nomadic".
Portos has for a long time abandoned sauces in favor of reduction, using delicately perfumed herbs and spices. Besides his Mediterranean style from the Gironde terroir, his cuisine occasionally borrows from the Maghreb in North Africa and sometimes includes Asian elements.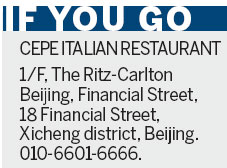 "I prefer reduction of jus to sauces to get the most flavor without the heaviness," he explains.
Portos often spends his free time visiting porcelain producers, and likes to pair meals with tableware, which he attributes to his father regularly taking him to museums as a boy.
The 48-year-old chef says he will offer dishes that he has adapted to Chinese porcelain.
He says Bordeaux is a city where tradition is important, but adds the general trend in France is toward organic products and the return of family-style dishes.
China Daily
(China Daily 08/27/2011 page12)