Resourceful chefs find recipe for success at contest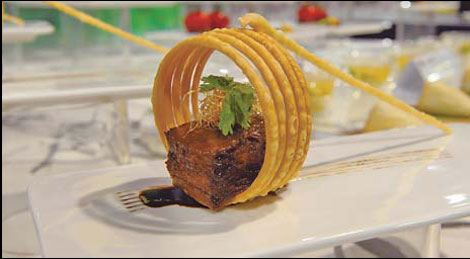 Beef shoulder in crispy noodle rings, a main dish prepared by Hou Xinqing. Provided to China Daily
A team of five Beijing chefs cooked up a storm at the China World Hotel on June 24, presenting to local diners their prize-winning dishes at the 2011 Taipei World Championship of Cookery and Food Expo.
The team competed with 500 top chefs from around the world and took the top spot at the contest in Taiwan in May.
Shi Xiusong, executive chef at Da Dong Peking Roast Duck Restaurant's Nanxincang branch, made the appetizer - two beautiful, sugar-glazed cherry tomatoes filled with crispy mushroom slices and walnut kernels.
Then came the red sea bream soup by Chen Qing. The most difficult part of the dish, Chen says, is to "weave" a Chinese knot with mashed fish.
"Fish balls, fish slices or even fish noodles are no longer novel," Chen says.
"We had to come up with something very different. So we chose the auspicious Chinese knot."
One of the main dishes was beef shoulder in crispy noodle rings by Summer Palace chef Hou Xinqing. The beef shoulder was difficult to soften. But the Beijing chefs figured out a way - using a pressure cooker - that won them the top accolades.
Hou braised a duck strip with oyster and soy sauces before wrapping it in lotus leaf and putting it inside a mold of flour, salt and egg whites to roast in an oven. That is traditionally called "salt braise" in Chinese cooking.
The final pastry was made in the pyramidal shape of zongzi, or rice dumplings. Li Ke, who is both a chef and manager of several restaurants, had to make the flour dumpling very delicately so the crispy surface wrinkles would be visible after deep-frying.
The Beijing chefs went with the theme "Rainy South China" at the competition, so most foods were in the southern Chinese style.
Every team got three and a half hours to cook six dishes - a cold appetizer, a soup, three main dishes and a pastry. The first dish had to come out in 105 minutes. Every proceeding dish had to be served in 10-minute intervals.
Team leader Qu Hao says the challenges came not only from time limits but also from ingredient limitations.
"When we attended such competitions on the mainland, we brought ingredients with us," he says.
"But the Taiwan competition's organizers provided the same ingredients to all the teams, except for the cold appetizer. That was quite a challenge."
The chefs were provided only 500 grams of flour, oil, mashed jujube and lotus paste for the pastry. Every team had only six eggs and a frozen duck. And the chefs found the seasonings to be different from what they usually use.
"Instead of dark or light soy sauce, they provided soy sauce cream," Chen says.
"The salt grains were much smaller than those available back home. There was also a sugar limit."
They practiced for the competition in Beijing for two months.
Chen had to try making the mashed-fish knot many times before he mastered it.
Hou traveled to Sichuan to find fresh bamboo stems as the container for his diced fish dish.
Li Ke, executive chef of Abalone King Restaurant in Beijing, went to Shanghai to practice pastry-making with a top pastry chef.
But despite their preparations, several hurdles emerged.
Most of the dish trays and some of the porcelain bamboo leaves for display broke during transport, and the tomatoes over-ripened.
So the chefs rushed to Taipei's largest vegetable market and dug through 10 boxes of cherry tomatoes to find a dozen usable ones. Qu used toothpicks as splints to reassemble the bamboo leaves.
Teamwork became even more important since the cooking utilities and ingredients were limited, Chen says.
"Working with the other team members was an unforgettable experience.
"We also learned from other competitors from other parts of the world."