Lights!Camera!Korean food!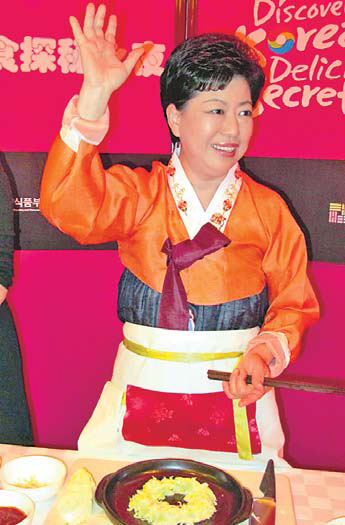 Food film director Kim Soo Jin prepares a Korean dish at Beijing's Korean restaurant Suraon. Ye Jun / China Daily
The hero delivers a warm bottle of delicious kelp soup to the beautiful heroine on the mountaintop, surprising her on her birthday and stealing her heart.
This scene, fusing romance and gastronomy, comes from a Korean film shown to diners and media at Beijing's Korean restaurant Suraon on May 19.
The event was hosted by Kim Soo Jin, the Republic of Korea's (ROK's) first and only "food film director".
The 57-year-old was the mastermind behind the delicious delights featured in such movies as the 2006 box office hit King and the Clown and The Best Chef I and II, which broke South Korean box office records in 2007. She also directed food filming in the Korean movies Frozen Flower and Portrait of a Beauty.
"Food directing is a new profession in (South) Korea," Kim says.
"It is born from the growing emphasis on food and drink in Korean movies. A professional director is needed to present tempting foods that speak for themselves."
Kim was touring Shanghai and Beijing as an ambassador of Korean foods, representing the ROK's Ministry for Food, Agriculture, Forestry and Fisheries.
Cooking has been Kim's lifelong hobby. She wasn't at all irritated that she - instead of her mother - had to cook for her family as a child. She started her adult life as a housewife but started looking for a job when her eldest daughter turned 5. So she started intensively studying Korean cuisine and teaching others how to make the dishes.
She shifted into food directing five years ago. Sometimes, her hands would be filmed chopping vegetables in place of the actresses'. If the actresses wanted to play themselves, she would train them to appear more professional in food preparation scenes.
It took four months to train the actors and actresses in The Best Chef. The performers would take courses about five times a week, with the longest session lasting seven hours, Kim recalls.
"The training was so strict that one left-handed actor now cooks with his right hand," she says.
"Some actresses became interested in food preparation through the training and took cooking courses to obtain a diploma" after the filming was done, she says.
A standard cooking lesson for stars starts with basic skills, such as perfect knife-work and ingredient selection. Then come the recipes for typical Korean dishes, such as kimchi, seafood and onion cakes.
"After studying, the actors and actresses were able to perform without stand-ins, and shots could pan from their hands to the faces without cuts," she says.
With the help of Suraon's Korean chefs, Kim created some typical delicacies from her homeland.
She presented beautifully stacked kimchi and bibimbap, as well as pork-stuffed mushroom, bell peppers and aubergines. Tasty roast beef, and nutritious chicken and ginseng soup followed.
Kim prepared three Korean dishes on the spot: a healthy rice and seasonal vegetable salad, a bean-sprout soup to treat hangovers, and fried octopus with spicy sauce - considered an energy booster and aphrodisiac for men.
She also introduced beliefs affiliated with typical foods. Kelp soup is consumed by new mothers to replenish their calcium after delivery and to commemorate birthdays. Hot and spicy chicken and ginseng soup is consumed to boost health in the summertime.
Rice wine, which is often mixed into cocktails with vegetable or fruit juice, contains 25 times the amount of the antioxidant farnesol compared to grape wine or beer.
Kim has been touring the world to promote her homeland's cuisine and culture.
"Good food and good films have no national boundaries," she says. "(South) Korea is a small country. Therefore, it is important to make people understand its culture through cuisine and film."
Kim has been to China 10 times, and says Chinese is her favorite cuisine after Korean. She also runs a culinary-instruction company. The chef says the next emphasis in her life would be gastronomic education and creating more films featuring beautiful food.