Chinese bridal designers debut at New York fashion week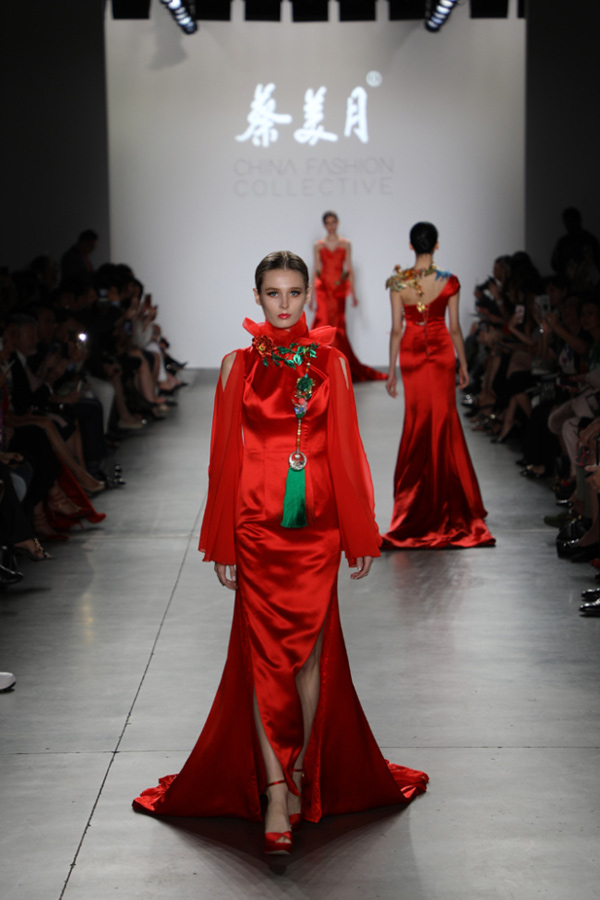 Tsai Meiyue's bridal collection featuring Min Xiu embroidery technique debuted at the NYFW Spring/Summer 2018 Season show at Pier 59 Studios, Manhattan, New York on Sep 10th, 2017. [Photo/China Plus]
China's top bridal designer Tsai Meiyue and new couture darling Vancy Law brought their latest fashion designs to the New York Fashion Week (NYFW) Runway show on Sep 10th in Manhattan, as part of the China Fashion Collective for NYFW Spring/Summer 2018 Season.
The evening show took place at Pier 59 Studios along the Hudson River, one of the Council of Fashion Designers of America (CFDA) official NYFW venues.
Tsai's intricate crimson creations and Law's collection of white and cream ethereal swaths sparkled enthusiasm and wide applause from the show room.
Tsai Meiyue from Xiamen has devoted the past two decades of her life to carrying on the cultural legacy of the Chinese wedding dress.
Her latest fashion designs brought to the NYFW runway show have redefined Chinese Min Xiu craftsmanship with her meticulously finished modern designs. Min Xiu is an embroidery technique native to Southern China where Tsai rose as a fashion designer.
Vancy Law, a young and promising fashion designer from Wuhan in central China, is a rising star in Chinese fashion circles. A graduate of the renowned French institute ESMOD, Law is dedicated to creating a homegrown Chinese couture brand with diversified offerings in bridal and cocktail attire.
Her designs, often featured in editorials, have been favorite picks among Chinese fashion celebrities. This time, Law's fashion collection on the NYFW runway show are titled "Jardin Nuage" or "Cloud Garden", featuring the ephemeral beauty of clouds at twilight.
As stated by local fashion commentators, Tsai and Law's show was the latest instance of Chinese domestic fashion designers presented at NYFW, unraveling the great potential of a booming Chinese fashion market.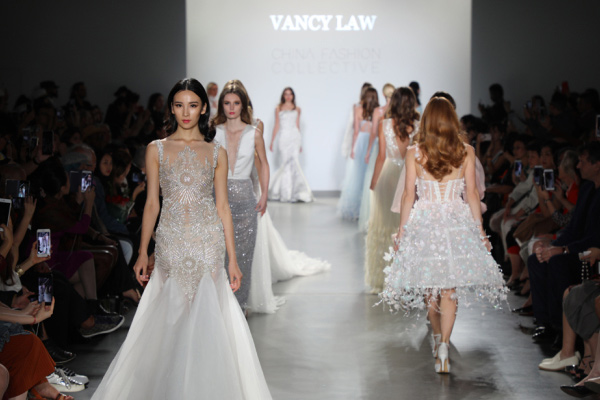 Vancy Law's collection titled "Jardin Nuage" debuted at the NYFW Spring/Summer 2018 Season show at Pier 59 Studios, Manhattan, New York on Sep 10th, 2017. [Photo/China Plus]