Teenage 'it girl' all grown up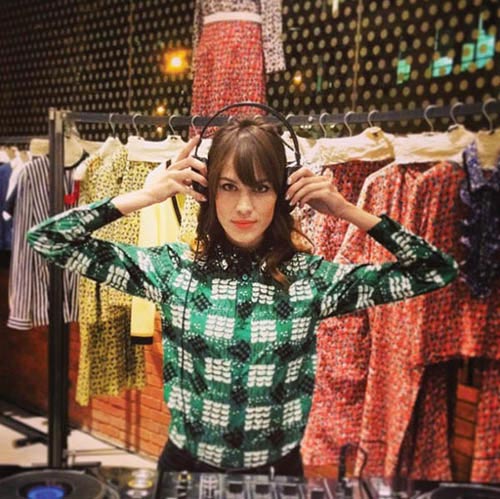 Alexa Chung [Photo/Instagram account of Alexa Chung]
Alexa Chung began her career as a teenage model. She's now 33, with a brand of her own and numerous other claims to fame – but her most prestigious title remains "It girl".
The daughter of a Chinese-British graphic designer and a British housewife, the 174cm Alexa Chung was "discovered" when she was 14 by a London-based modelling agency. The experience that many girls her age dreamed of, however, didn't sit well with the teenager. According to Chung, her parents were unsupportive of her taking up modelling as a profession, she was asked to pose semi-naked when it was unnecessary and she was also deeply affected by criticism about her appearance.
Chung's career took off when she started to appear in a slew of music videos and TV shows in 2006. Her playful personality, witty dialogue and spontaneous reactions on camera earned her celebrity status. She debuted her own US show on MTV in 2009 – a daily, live talk show called It's On with Alexa Chung – followed by the show Gonzo with Alexa Chung on UK screens a year later.
Her personal style brought her as much attention as her TV appearances and she was hounded by photographers for street snaps. She loves to mix and match styles, and she often wears masculine pieces that exude a touch of femininity, such as an oversized suit combined with a shiny pair of Mary Janes. Her love of flats, as well as her iconic play-it-cool gesture – crossing one foot over the other in front of the cameras – made more and more people call her "It girl", a term originally used to describe beautiful young women who don't flaunt their sexuality.
Chung frequently appeared on the best-dressed lists, on magazine covers and in the front row of fashion shows. In 2009, when she was just 25, British handbag brand Mulberry created the Alexa satchel, inspired by her, and the bag soon became the brand's most sought-after. She received a string of acclaim and recognition from industry leaders; Anna Wintour called her "a phenomenon" and The New York Times dubbed her "the Kate Moss of the new generation" – she even beat out Moss for Vogue's best-dressed title in 2009.
From 2011 to 2013, Chung took home the British Fashion Council's British Style Award three consecutive times; the public-voted award "recognises an individual who embodies the spirit of British fashion." The year she turned 30, she became the face of Parisian fashion maison Longchamp, landed one of her largest campaigns with L'Oréal and released her first book, It, which openly discusses the formation of her style.
After numerous co-branding projects with the likes of AG Jeans and Madewell, she officially became a fashion designer with the launch of Alexachung, backed by London-based private equity investor Peter Dubens. At the show for her debut collection this May in North London, Chung opted for a glittering green gown. Some of the familiar styles that she likes to wear were spotted throughout the collection, such as Mary Janes, the workwear jacket, Peter Pan collars and Asian inspiration galore. All the pieces are free of fur, Angora hair and exotic skins.
"Age had something to do with it – a restlessness in New York, looking for stability," she explained in an interview with Vogue after the show. "I'm young enough and excited enough to start something new, but old enough to have learned a bit. And confident enough to think I could pull it off." Clearly, the It girl has grown up.