Falsies but goodies
Bottom lashes [Photo provided to China Daily]
For a '60s doll-like look – hello Twiggy! – wear false lashes on your superior eyelid and below. These bottom lashes are specially designed for this use.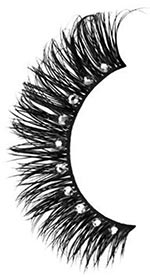 Sparkling eyelashes [Photo provided to China Daily]
No need to look to the sky to see the stars with these sparkling eyelashes, perfect for fancy evenings out.