Italian fashion school expands to Guangzhou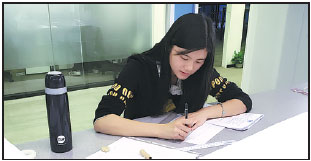 A student studies at Istituto Secoli's Guangzhou branch in Guangdong province.Provided To China Daily
Milan-based fashion school Istituto Secoli has opened a new branch in Guangzhou, Guangdong province, to help fill the need for more pattern-making talent in China's fashion industry.
"China is not lacking fashion designers, but patternmaking talent," said Sam Lau, director and vice-dean of the school, which is well known for training patternmakers as well as teaching designing, sewing and production management.
In China, patternmaking knowledge and experience has traditionally been passed down from generation to generation. In the past, patternmakers have had a relatively low level of education, making it inefficient for them to communicate with designers, Lau said.
Some fashion companies buy patterns from European counterparts, but European and Chinese people often have different measurements, he said.
Istituto Secoli, which also provides training to big-name European fashion houses, has taught more than 80,000 students since it was founded in 1934. It is a champion of the belief, typical to the Italian fashion industry, that creative ideas must be translated into perfectly thought-through well-crafted products.
As the only overseas campus of the school, the Guangzhou branch houses 10 students aged 18 to 26, with capacity for 30 more. Classes started in October. The Chinese partners of the campus include the Guangdong Association of Garment and Garment Article Industry, Guangdong Fashion Designers Association and Guangzhou Textile Exchange Park.
Guangzhou is a prime location for the campus because the surrounding province hosts much of China's garment industry, the most fashion brands, the largest apparel industrial chain and the most fashion designers, Lau said.
As the provincial capital, the city also accommodates a full garment and raw materials supply chain, he said.
French fashion design school Esmod launched its Guangzhou campus in 2014.
With the Chinese government placing greater emphasis on vocational education and training, more quality foreign educational resources are expected to open branches in the country, Lau said.
Istituto Secoli's Milan campus has 400 students, many of whom come from China, said Simona Borghesan, a patternmaking teacher working at the Guangzhou campus.
Students at the new campus will spend two years in Guangzhou learning both fashion and the Italian language, with a third year in Milan.
Candidates do not need fashion skills or experience, but must have a passion for fashion if they are to get the most out of the packed schedules, Lau said.
Song Xunan, who completed a four-year university program in engineering budgeting earlier this year, is studying at the Guangzhou campus to pursue her dream of working in fashion.
"I wanted to learn fashion when I was at high school, but did not have the drawing skills necessary to attend fashion programs at Chinese universities," she said.