Want to keep warm in winter without layering up? Try Russian pants!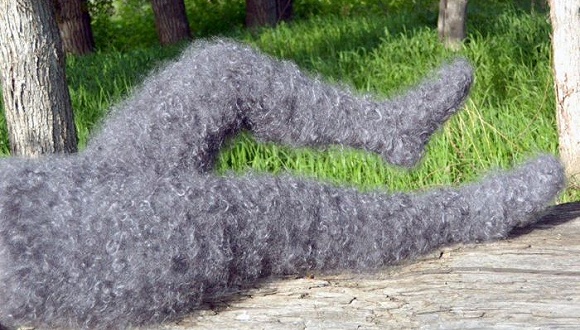 A pair of made-in-Russia woolen pants has engulfed the foreign market. [Photo/Weibo Account of Huaze Meimei]
As most cities in China have shivered through their first snowfall this week, some seemed to be caught unprepared by the sudden drop in temperature.
In the face of the cold, putting on extra layers and trousers will definitely be the first steps by the majority of those who fear the cold.
However, as a fashion insider, I know that you can't stand being wrapped in thick clothes like a moving dumpling even in winter. It will make you look plump and countrified, right?
Hey, if you cannot show off your slim figures at the moment, why don't you try something different and bold? After all, the rate of second glances means something to you.
According to Sina Weibo user Huaze Meimei, pairs of made-in-Russia woolen pants have engulfed the foreign market.
"The pants are made from wools of Orenbury, a group of goats dwelling in Orenburg in Russia. Soft and light, the wools are as slender as silk. Boasting a low heat-conducting property, they are not easy to catch fire, and you can feel free to try them on," the user said.
Actually, Orenbury wools are first-class material for making clothes. Similar to qualified cony hairs, they are favored by Nurnberg manufacturers that make capes in Germany. Many countries, including Britain, tried to introduce the Orenbury to their countries, but all ended in failure.