Designer Ma Ke: Exception to the rule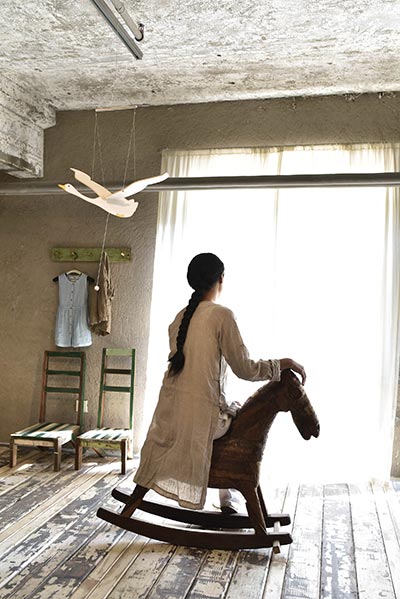 Ma Ke. [Photo by Wu Yong/China Daily Asia]
How did you decide to start your own brand?
I studied fashion design and acting in university, and learned that although China was the largest clothing manufacturer in the world, there were no recognised designer brands. I thought I should try to create China's own designer brand – that was my dream.
I went abroad early in my career and the comment I heard most was that "Chinese don't know about creation – they only copy." I felt humiliated and angry. I knew that we had exquisite craftsmanship and wisdom, and that we could be as good as other countries. I worked for three different garment companies before starting my own brand – Exception – in 1996 with my partner.
What did you have in mind when you started designing?
I only wanted to follow my heart. As for the style – it emerged gradually. It was a process of getting to know myself; I am what I design. I left Exception in 2006 and started my second brand, Wu Yong (which translates as "useless").
In fact, 2006 was an important year for you. You started Wu Yong and were invited to do a show at Paris Fashion Week.
In June 2006, the then-president of the Chambre Syndicale de la Haute Couture, Didier Grumbach, came to my office in Zhuhai and invited me to be the first Chinese designer to present at Paris Fashion Week. I went to Paris Fashion Week in 2007 and showed 27 garments inspired by the lives of Chinese farmers and artisans. I was aware that what I had designed had nothing to do with fashion. But Paris has the biggest appreciation and acceptance for any kind of art and creation.
After the show, you were invited to be part of another big show.
The week after, I received an invitation from Paris Haute Couture Week. I did agree to do it, but made it clear that it would be my only time. So I presented Wu Yong's Luxury of Austerity line and became the first Chinese designer to show work there.
Wu Yong was described as "anti-fashion" and you said you wanted to be an artist.
My show at Paris Fashion Week attracted attention from museums around the world; they invited me to do exhibitions. I had the chance to be a real artist so I could get away from the commercial world forever. But I didn't, because there were other things I cared about. When I did research and toured rural areas in China, I was moved by the lives and stories of farmers and artisans. I wanted to help them preserve their traditions of craftsmanship.
You opened a "life-experience" space in Beijing named Wu Yong. What was the inspiration?
After Paris Haute Couture Week, I came back to Zhuhai and wanted to give myself some time to concentrate on the things I was passionate about. In 2012, I had accumulated enough original designs to share with the public. That's when I decided to transform Wu Yong from a NGO into a social enterprise and look for a space to present our work.
You worked in Zhuhai for many years, so why did you choose Beijing as the brand's home base?
It was just my instinct – I think Wu Yong is more suitable for Beijing. It has deep-rooted Chinese cultural heritage.
After 2013, you became known as the designer for Chinese First Lady Peng Liyuan. How did this influence your work and daily life?
I am who I used to be – I haven't changed. The First Lady came to me when I was looking for Wu Yong's space in Beijing in 2013. We had known each other for many years; she wore my designs in the late '90s and loved them. Then she invited me to do the designs for her first official visit abroad.
Are you still doing designs for her?
Yes, and also working on Wu Yong. I design most of the clothes the First Lady wears during her official visits abroad, but not all of them.
You provide people with a kind of lifestyle that focuses on the most commonly used material, skills and textures from the past.
I think we Chinese haven't put on our own clothes for a long time. I was born in the 1970s. Clothes were very simple at that time. I remember a Chinese lady looking at my Chinese-style garments, asking me whether she was suitable for that style. I was shocked, because she had no confidence in Chinese style. The power of fashion is enormous. I always say that what Wu Yong is doing is like helping a man with amnesia find his memory.
Besides nature and traditional craftsmanship, what other sorts of things inspire you?
My biggest inspiration is Chinese culture. Also, you must have a free soul to create. My inspiration comes from the inside, not the outside.
How would you describe yourself in three words?
I can't – it's like blowing your own trumpet. Instead, I would like to say what kind of person I want to be. First, a warm person who can bring warmth to those around me. Second, a simple person who doesn't have so much confrontation or hesitation. Third, an innocent person who isn't influenced by the outside world.
Related:
Exclusive interview with Ma Ke: Q + A