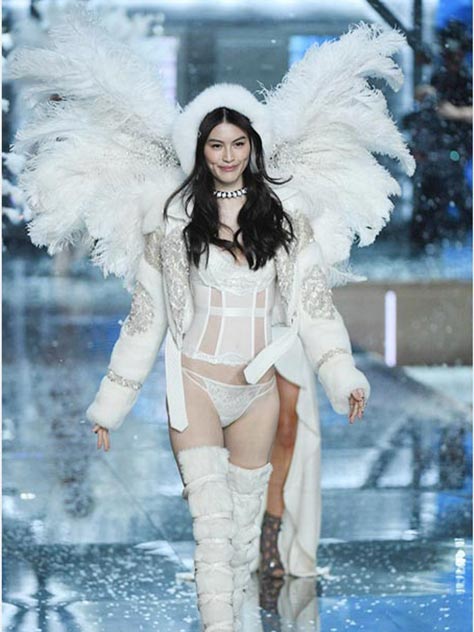 Chinese model He Sui presents a creation at Victoria's Secret Fashion Show in New York on Nov 11, 2015. [Photo/Weibo]
While China's luxury market is trapped with sluggish sales amid the central government's strict ban on gifting, the lingerie industry has been on the upswing, with a double-digit growth rate.
Consulting firm Frost and Sullivan estimated that by the end of the year, China's lingerie market was valued at $240 billion.
The country's increasingly sophisticated middle class is spurring the growth. Observers say the group is ready to spend large sums on intimate apparel, not just bags and shoes, to show off their new wealth.
Victoria's Secret's annual televised extravaganza is one of the world's most watched fashion shows, featuring pop stars such as Taylor Swift and supermodels like Adriana Lima. But the iconic lacy undergarments that the company has spent millions of dollars to promote, together with some of the most perfect bodies on the planet, remains available only in three countries, the US, the United Kingdom and Canada.
Last year, as the fashion show celebrated its 20th anniversary, China added itself to the 190 countries worldwide broadcasting the hourlong show live online. On the video page of Tencent, which obtained the exclusive video broadcast rights to the show in China, the spectacle has been watched 180 million times.