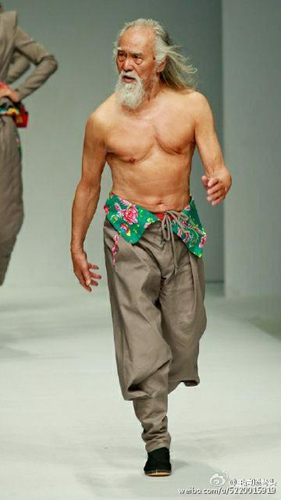 Wang Deshun walks on the stage during a fashion show. [Photo/Weibo.com]
Speaking of elderly people with great fashion sense, celebrated actors Wang Deshun and Zhang Shuangli are two such icons. The two are known for their fashion savvy even though they are getting older. In March last year, at a launch during China Fashion Week, the 79-year-old Wang Deshun walked onto the stage topless, wearing fashionable pants. His muscular body amazed audiences.
Zhang Shuangli, who is 62 years old, is also a fashionista, who goes to the gym a lot and dresses himself more fashionably than many young males.
Fashion is an attitude, pursuing fashion throughout our life will help preserve your youth. And don't forget to bring your grandparents along when you are dressing up.