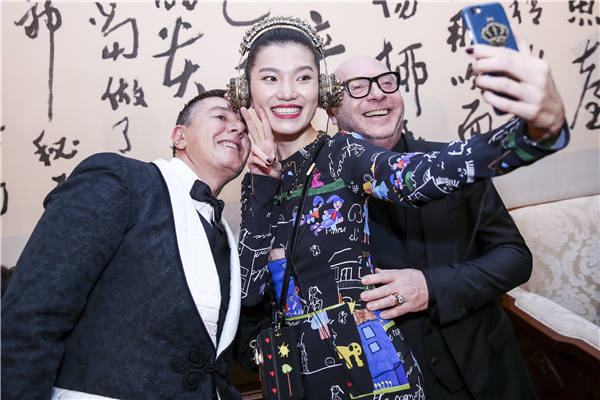 Fashion designers Gabbana (left) and Dolce with Chinese model Li Danni at a promotional event in Beijing.
Along with their 2015 summer/spring collection and 2015 autumn/winter collection, the two created a special package featuring special products for Chinese customers.
Along with the 2016 spring/summer collection, they are again offering red dresses for Chinese customers.
Gabbana says: "China is a very important market for us. We have many customers here who believe in Dolce & Gabbana. The reaction to our unique China package products is great."
Since their first visit five years ago, the duo have returned every year. This year, they visited the country twice.
In March, they visited Shanghai to do a book of photographs of Chinese badminton player Lin Dan. While the photographs were taken by Dolce, the book was styled by Gabbana. The book depicts the Olympic champion as an icon of masculinity.
Their recent Beijing visit was "to say thank you", says Gabanna. They attended a dinner at the city's Diaoyutai guesthouse with VIP customers.