Finding joy in jewelry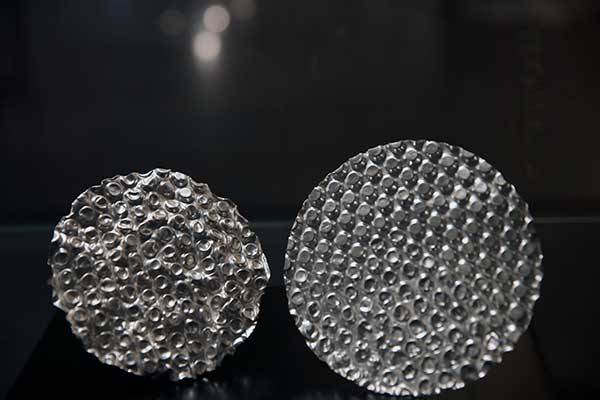 Jewelry pieces by artists from around the world are on display at the ongoing Beijing International Contemporary Metal&Jewelry Art Exhibition.[Photo by Jiang Dong/China Daily]
Timothy Michael Veske-McMahon, assistant professor of the Pratt Institute in New York, presents a series of wearable, concept-based works that started when he was living in Estonia, with "a sense of isolation as a foreigner". He also instills in his works the challenging experience of living in New York as an artist.
"My work is about communication. It's jewelry that can act as a sign or signal. I do jewelry because ... it crosses language barriers," he says.
New York-based Chinese designer Hu Naishu and her husband He Wei fuse their expertise in sculpture and performance art in jewelry design. Strawberries, bananas and steamed buns are transformed into playful necklaces and brooches that Hu says can act as ice-breakers in conversations.
"Sometimes, people tend to take cultural barriers too seriously. With food as a universal language, things can be much easier," Hu says.
The exhibition is held once every two years in Beijing.
If you go
9 am-5 pm, daily (except Mondays), through Nov 21. Beijing World Art Museum, China Millennium Monument, A9 Fuxinglu, Haidian district, Beijing. 010-5980-2222.