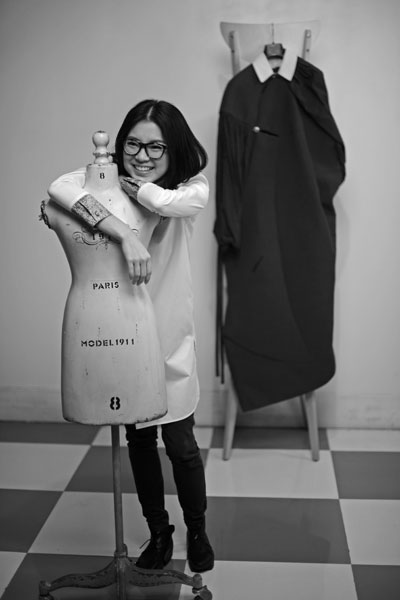 The designer in her studio.[Photo provided to China Daily]
Her interest in traditional Chinese culture arose during her study abroad rather than when she was growing up in China, Ding says.
In 2011, she went to see an exhibition held at Victoria and Albert Museum in London, called Imperial Chinese Robes from the Forbidden City, which deeply touched the young designer.
Ding recalls the display was in a corner of the building and exhibits in huge glass boxes were hung on the wall, "looking like some ancient herbaria".
"Before I studied abroad, I didn't understand traditional Chinese clothing. I thought they were too far from my life. At the time, I quite liked Western styles of design," Ding says. "But everything in the exhibition was so exquisite and elegant that it easily made me think of ancient China."
After that experience, Ding started to think about ancient garments and traditional Chinese culture, she says. She realized that it was the time to do something to let more people discover the beauty of it. And the only method to do so was to establish her own brand.
In late 2011, she returned to China and established Jo Qiao Ding, which Ding describes as a brand that represents "light Chinese style and a slow lifestyle". Her core philosophy for her lines: young and relaxed.
"I want to make clothes which are wearable and suitable for young people as well as being different from the stereotypical ideas of traditional Chinese fashion," Ding says. "I think people would like to choose this style of clothes if it is relaxed and can be worn on any occasion."
In June 2012, one of Ding's collections was included in BNC, or Brand New China, a fashion store founded by Hung Huang, a Chinese media mogul and TV presenter whose iLook magazine has focused on Chinese designers since it was established in 1998.
As Hung says, Chinese fashion is flourishing but it's very hard for young Chinese fashion designers to find their own voices in a crowded marketplace. Ding says she feels fortunate that she has been able to shape her own design language and that her clothes are selling well.
"I remember that one of my tutors from Central Saint Martins talked with me a long time ago. He said that my cultural background distinguished me from my peers," says Ding.
When she looks back on the evolution of Chinese fashion, especially women's apparel, she can find endless inspiration, she says.
"The shoulder pads, bell bottoms and huge sunglasses from my mother's generation were so cool. I admire all ages of fashion because it proves that women enjoy their lives."