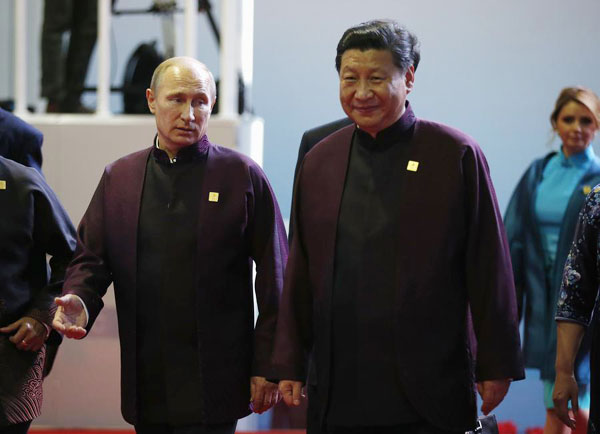 Russian President Vladimir Putin and Chinese President Xi Jinping talk as they depart the APEC Economic Leaders' Meeting family photo, in Beijing November 10, 2014. [Photo/Agencies]
This year marks the 25th anniversary of the APEC, which has been a top-level and most representative cooperation mechanism that covers a wide range of areas in the Asia-Pacific Leaders and representatives of the 21 APEC economies. Leaders and representatives from the 21-member APEC economies attended this year's meeting.
Incorporating the host country's fashion into the meeting began when US President Bill Clinton handed out leather bomber jackets in Seattle during 1993's forum. Leaders also donned blue-and-gold South Korean silk overcoats called durumagi in 2005, followed the next year by flowing silk ao dai tunics in Hanoi.