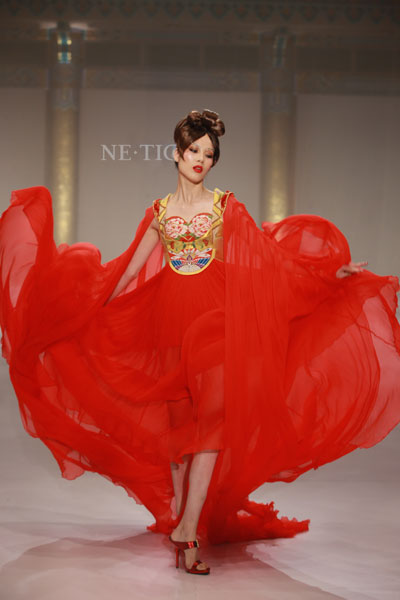 A mix of rare handicrafts and modern tailoring, it can be difficult to tell if Ne Tiger clothes are fashion items or cultural relics.
For every dress exhibited, there were at least nine that failed, Zhang says.
The handicrafts, which originated from China but later disappeared, were painstakingly resurrected, learned from Japanese artisans, conservationists who took part in the restoration of the Palace Museum and factories who have manufactured for Western brands.
"We want to revitalize the luxury culture in China, which is deeply rooted in our history," Zhang says.
European aristocrats, Arabian royals and wives of ambassadors have long been clients of Ne Tiger, he says.
Early in 2007, Prince Joachim of Denmark selected a Ne Tiger dress for the then to-be Princess Marie of Denmark.
A Ne Tiger red silk gown that uses seven ancient weaving techniques was collected by the Capital Museum in 2010.
Founded in 1982, the label started out in the fur industry and later expanded to evening gowns, wedding dresses and couture service. Each collection is focused on the aesthetics and handicrafts of a specific period in the Chinese history.
"We have to look back and discover our own culture to build a future for the brand," Zhang says.