Silk suits fashion designer to a tea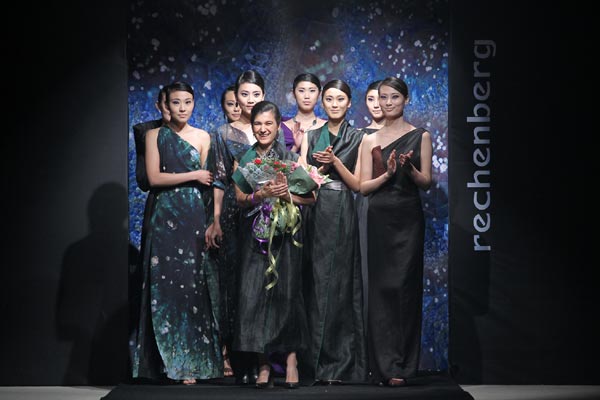 Models show off creations from German designer Kathrin von Rechenberg's new Fall/Winter Line. Photos provided to China Daily
Double-faced cashmere coats with a tea-silk inner lining have long been prominent in Rechenberg's Fall/Winter Line. However, even in these outfits, Rechenberg notes that "the tea silk can also be seen, it's on the coat lapels".
The Fall/Winter Line also retains Rechenberg's trademark understated German chic. After seeing her clothes for the first time, a sportswear designer friend from Berlin declared: "Such clean and simple lines. There's no distraction here." As Rechenberg herself emphasizes, "I always try to get rid of unnecessary things, where other designers add on, I say 'enough!'."
Rechenberg adds that while striving for a "geometrical form" in design, she also wants her outfits to have a "fluid shape" once they are worn. "They should be fluid on the body, yet retain a structure."
This combination of timeless elegant simplicity in design and the very best materials has won Rechenberg a rapidly growing clientele. She says: "Over the past two years, my business has grown by 50 percent." Most of these new customers are Chinese, especially affluent professional women in business and upper management.
One individual who has been especially impressed with Rechenberg's work is the mayor of Daliang. After viewing a friend from the neighboring city of Shunde wearing a Rechenberg-created tea silk male tunic, the mayor contacted the designer to discuss collaborating over tea silk.
"We are naturally very excited about this new development," says Rechenberg. "He's invited us to a conference, wants to display our tea silk in a museum, and is interested in further cooperative ventures."
For Rechenberg this is another important step in realizing her quest to "make high-quality and timeless haute couture with distinctive Chinese characteristics".
Related:
The suave style of America's dapper dynasty has arrived
Stars attend fashion event in Beijing
Smaller cities shopping more on online luxury platforms
Future of retail lies in clicks, not bricks