Men, you look good in slim elegant cut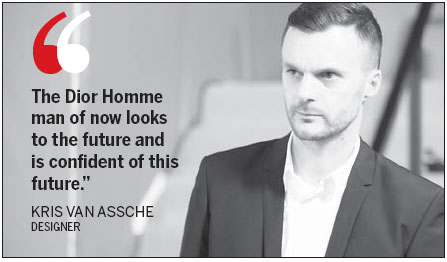 In the men's fashion world, the image of muscular and hunky Hugh Jackman is out. Pale and thin Robert Pattinson is in vogue.
The trend is even more apparent in China. Some of the country's top men celebrities - like Huang Xiaoming, Deng Chao, Tong Dawei, Han Geng and Stanley Huang - all have physiques like Pattinson's.
At Dior Homme's very first show out of its headquarters in Paris, which was held in Beijing, these top-tier celebrities were invited to grace the menswear's red carpet.
After debuting its fall/winter 2013 collection in January in Paris, Dior Homme staged its first runway collection at Beijing's Central Academy of Fine Arts Museum in late May. The French clothing retailer presented 40 pieces, three of which are especially created for Chinese men.
The designer behind Dior Homme, Kris van Assche, says Beijing is a "natural choice".
"China is obviously an important market for Dior Homme and a constant source of inspiration (for me)," he says.
The new pieces Van Assche created this season are all in black and white, delivering a futuristic glamour. The designer has a preference for slim, clean and simple silhouette.
When tall, slim models presented them in the CAFA Museum, fashionistas present immediately recognized the label's signature simplicity and elegance.
During the show, a bat accidentally swooped into the runway, adding a mysterious Gothic touch to the whole atmosphere.
Related: