Beauty expert praises First Lady style
Labeled by Internet fans as the real Liyuan style, China's first lady Peng Liyuan's fashion acumen won considerable praise from her followers when she made her diplomatic debut during her arrival in Moscow on March 22.
Photos of Peng wearing a dark navy overcoat, a light turquoise silk scarf with a matching handbag, exploded upon the Internet, which Web users described as understated and sophisticated.
Fashion critic Yue-Sai Kan spoke highly of Peng Liyuan's wardrobe and fashion sense at a press conference for the launch of her new book "Life is a Competition" on March 26 in Beijing.
Videographer & Editor: Lance Crayon
Related stories:
Exclusive interview with Yue-Sai (Video)
First lady sparks frenzy over domestic fashion brands
Yue-Sai Kan: Life is a competition
China Fashion Week gaining international reputation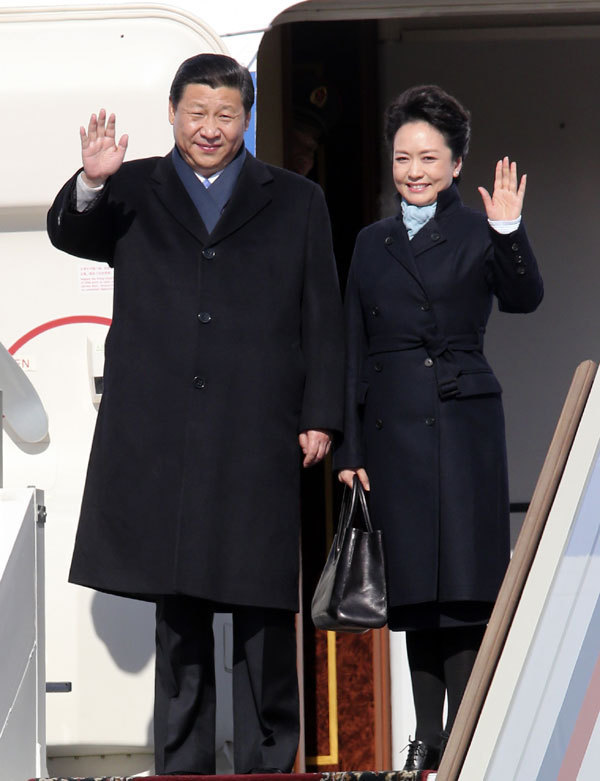 Chinese President Xi Jinping (L) and his wife Peng Liyuan wave upon their arrival in Moscow, capital of Russia, March 22, 2013. Chinese President Xi Jinping arrived in Moscow Friday for a state visit to Russia. [Photo/Xinhua]
Related stories:
First lady sparks frenzy over domestic fashion brands
China Fashion Week gaining international reputation