British fashion designer Graeme Black has been appointed creative director of Chinese label 1436. He has given 1436 international cachet with his collections and contacts. Photos Provided to China Daily
British fashion designer Graeme Black has been tapped by domestic brand 1436, reports Gan Tian, to provide the label with better branding and some pizzazz.
When British fashion designer Graeme Black was invited to work with the Chinese label 1436, initially he didn't show much interest. In early 2011, an old friend had called up and asked him: "I know an amazing company in China and they do wonderful cashmere. They are looking for a creative director. Would you be interested?"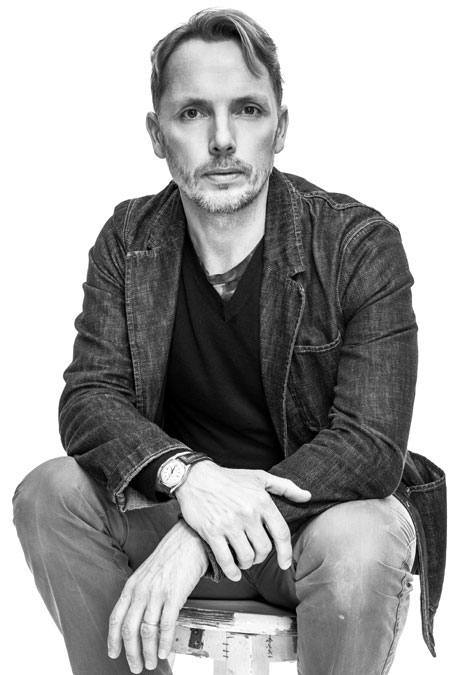 After working for global brands such as Giorgio Armani, Salvatore Ferragamo and Hugo Boss, he had started his own label and told his friend that he had no plans to live in China.
But he changed his mind after a visit to Beijing in September 2011 when he met up with Jane Wang, the founder and general manager of 1436.
"My initial impression of 1436 was of a 6-year-old label that had some amazing quality cashmere. If I was to create something for it, I thought it should be very colorful."
Having worked on cashmere for Giorgio Armani and Salvatore Ferragamo, he thought that he might be able to contribute to 1436's continuing development.
In November 2011 he was appointed creative director of the brand, with the brief of expanding the collection domestically and internationally.
"I can't tell you what Black's salary is but I can assure you we pay him no less than any other international luxury brand pays for its lead designer," 1436's Wang says.
 Black started out forming the autumn/winter 2012 collection, which normally comes out in July and August. But he was delayed and his collection actually came out in November - to universal applause.
Inspired by paintings, he used a lot of splashy color blocks on sweaters and scarves. Camel and orange were the featured colors, while textures and graphics gave the collection a cool touch.
Contractually, Black has to stay in Beijing for at least 10 days every month, which means that he is a frequent flyer.
"Normally, I do my research in London and then present it to my team in Beijing and we talk about it: The theme, color and the mood," Black says.
"Although I suffer a lot from jet leg, I have found it very entertaining and easy to work with my Chinese colleagues."
Black has given 1436 international cachet due to his design work and impressive connections in the industry.
During his stay in Milan, Italy, at the end of 2012, he invited a famous photographer to do the company's lookbook and catalogue. He also invited a store designer based in Tokyo to assist with the company's Beijing boutique stores here.
Chinese labels have good ideas and designers, but lack a coherent image, Black says.
While trying to build 1436 up from the bottom to the top, he is also learning more about his Chinese customers.
"My job today also includes look at the competition. We want to present ourselves in a clear way. Big brands don't happen overnight. They take years to understand their customers. And that is my biggest selling point: a clear image for the brand," Black says.
Contact the writer at
gantian@chinadaily.com.cn.