2012 China Open Polo Tournament held in Beijing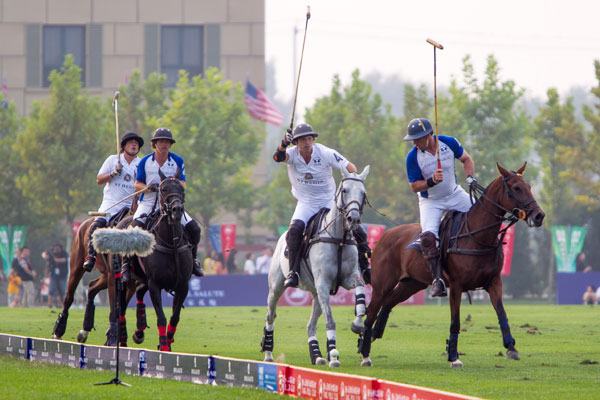 St. Regis Brand Connoisseur Nacho Figueras plays at Royal Salute Gold Cup 2012 China Open Polo Tournament on September 22, 2012.
Royal Salute Gold Cup 2012 China Open Polo Tournament was held on September 18 to 23, and St. Regis Hotels & Resorts participated in the highly competitive event as USA team sponsor and official hotel sponsor, together with Royal Salute and Tang Polo Club.
The international polo teams competing in the tournament included Royal Salute China team, King Power Thailand team, Ratio England team, Coco Republic Australia team, and the St. Regis USA team captained by St. Regis Connoisseur, and renowned polo player Ignacio 'Nacho' Figueras. Participation in this tournament is illustrative of St. Regis' commitment to the international sport of polo in China, and numerous destinations around the world.
The highly anticipated international polo matches during the Royal Salute Gold Cup 2012 China Open Polo Tournament were part of a thrilling five day series culminating in The Argentine Cup match played on Saturday 22nd and the finals of the Open on Sunday 23rd September, in front of almost 2,000 spectators.
St. Regis Connoisseur Nacho Figueras said, "It has been both an honor and a pleasure to captain the St. Regis USA team in the Royal Salute Gold Cup 2012 China Polo Open Tournament over the last five days. This is my first experience in China and it has been hugely rewarding - I am pleased to have had this incredible opportunity to play polo in front of really enthusiastic crowds. Polo in China has a very rich history, and it is exciting to be part of the journey to restore its relevance to spectators today. I am looking forward to my return!"
The St. Regis Beijing hosted international polo players and invited VIP guests during their stay at the Chinese Capital for the Royal Salute Gold Cup 2012 China Open Polo Tournament. "Our participation as Team Sponsor and Official Hotel Sponsor at this tournament by Tang Polo Club and Royal Salute is a successful initiative to help promote St. Regis polo legacy in China. As we further propel the growth of the St. Regis experience in China, with current properties in Beijing, Lhasa, Sanya, Shenzhen, and Tianjin, we are delighted to be actively involved with China's growing polo scene especially since our Polo Connoisseur, Nacho Figueras is playing in the St. Regis sponsored team." said Fay-Linn Yeoh, Director, St. Regis and Luxury Collection, Starwood Asia Pacific.
St. Regis has long been associated with polo, the 'Sport of Kings', since the turn of the last century when matches on Manhattan's Governors Island were the highlight of the New York social calendar – and the St. Regis' founding family, the Astor's, were a prominent fixture. Indeed, John Jacob Astor IV opened the first St. Regis hotel in New York in 1904 in the same year that matches between dashing army officers became highlights of high society's summer scene.