Wholesome brand

The design for a mobile retail booth by Marc & Chantal, as well as products such as coasters and packaging. Photos provided to China Daily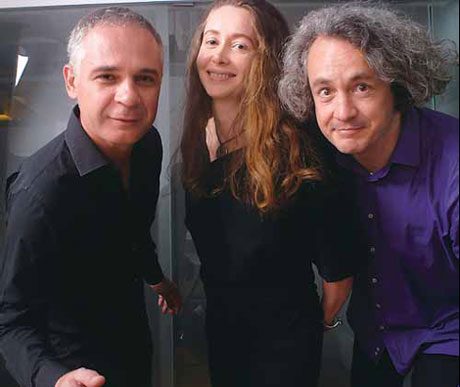 From left: Marc Cansier, Chantal Rechaussat and Marc Brulhart.
Hong Kong based interdisciplinary design studio Marc & Chantal opens its doors for Rebecca Lo to take a peek inside its creative process.
The word "brand" is typically associated with images of ladies sporting Louis Vuitton handbags and Salvatore Ferragamo shoes - whether they are genuine or not isn't the point. Brands are synonymous with an aspirational lifestyle that many hope to achieve: The best ways to show that you have arrived is to wear it. Marc & Chantal Design believes differently. Founded in Hong Kong more than 20 years ago by French nationals Marc Cansier and Chantal Rechaussat, as well as Swiss French national Marc Brulhart, the firm draws upon its strengths in all aspects of design. Cansier is a graphics and web master, Rechaussat is detail-oriented and clever with packaging and products and Brulhart rounds out the team with his retail and interior experience.
In 2010, Cansier moved with his Beijing-born wife to her hometown and established Marc & Chantal's first studio outside of Hong Kong. "We opened an atelier in Beijing as we were getting more and more work in the mainland; we needed a base to service our customers there," says Brulhart. "We needed to be on the ground to understand how things are done. As Marc's wife wanted to move back, it made sense for him to relocate with her."
Its bright Sheung Wan studio houses 30 people, while Beijing contains five. The firm is now concentrating on what it does well: museum design, retail design, and branding.
For the group, design doesn't stop with only one aspect of a project. Their concepts are immersive experiences. Everything, from small components such as a company's signage and logo, to big components such as convention center spaces and exhibition halls, all carry the same brand message.
Organizations as diverse as Swire, Swarovski, Hong Kong SAR government's various departments, Hong Kong Jockey Club and Beijing's Shopin have all looked to Marc & Chantal for help in establishing their brand story - and communicating that story to a wider audience.
"We come into our customers' picture much earlier now," says Rechaussat. "We have long term relationships with some of them and when a project comes up, we are included in the thinking process. We get to participate in the concept of a brand."
"Our team has matured over the years," says Brulhart. "We have copywriters, brand strategists, architects and many senior people who are only 30 or so years old but have been with us for a long time. We want to foster a flow of energy. We try to keep our studio fresh and dynamic."
"Our two studios in Hong Kong and Beijing work very closely together," says Rechaussat. "We'll transfer people back and forth as required. There is always that exchange of ideas: it's not two separate sets of people."
She nods at Cansier's live Beijing feed on a multiplex size flatscreen in their lounge-like meeting room with a view out to the studio's wrap-around terrace. "Our Hong Kong team will get involved in some Beijing projects. But on smaller projects, Beijing can handle them locally and independently.
"We are more focused on how we approach a project. We will accept both large and small ones - a project may be small but it can be very exciting. Our main strength is our end-to-end scope. We ask our customers: what do you actually need? And we will follow through to that idea's implementation. We believe in storytelling: there is a thread that weaves through the experience which is meaningful to the brand. That is really where we excel."
Hong Kong Jockey Club (HKJC), an institution almost as old as Hong Kong itself, commissioned Marc & Chantal to help rebrand its retail arm.
The project, dubbed "Gift Shop at the Races" encompassed revamping retail shops in both HKJC's Happy Valley and Shatin racecourses, satellite mobile carts on the grounds, all accompanying signage, and gift and souvenir items.
The result is a witty campaign full of double entendre that the studio had a lot of fun designing.
"Actually, we laughed a lot during this project!" says copywriter Jessica Collins. "We had to research all of these little-known facts, and many of them we found so quirky and idiosyncratic, that we had to find a way to incorporate them into our design."
Marc & Chantal's client HKJC also found the irony of the fun facts appealing and in line with its new retail direction. The studio went on to design a line of projects called "Happy Racing".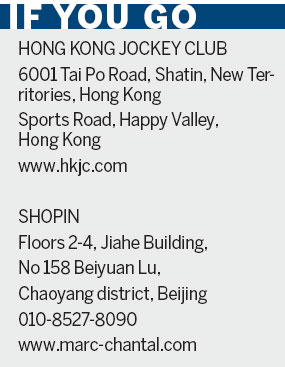 "The collection of products consists of imagery which relate to horses and racing. We wanted to have fun with it, so we've taken iconic symbols such as saddles, bits and horse shoes, and paired them with bold new colors and quirky typography in a light-hearted way," says design director Gahyee Tsui.
"We ban references as inspiration as much as possible," explains Brulhart. "We insist that our designers write what they want to do first before drawing a line."
"We want to go to the source of the inspiration," says Rechaussat. "The source may be completely unrelated to the finished product."
"We don't want to set up a scenario where plagiarism may occur, even if it happens unconsciously," insists Brulhart. "What we do has an impact and creates long lasting memories. We want our designs to carry the right meaning."
For Beijing's Shopin, Marc & Chantal designed a campaign to establish the retailer as a hip and dynamic group that appeals to the capital's affluent young market.
"Trust in the Chinese mainland takes longer than in Hong Kong," admits Rechaussat. "The market is still discovering the value of a branded environment. China is a market that is still learning. We have to explain a lot along each step of the design process. Shopin was a good experience for us. We worked with a young team that was also very ambitious. They trusted our skills and listened to what we had to say."
"They wanted quality and didn't rush us," says Rechaussat.
Although Marc & Chantal offer a decidedly different spin in comparison to many Hong Kong designers, it has been working in the territory long enough to think of itself as part of the city's landscape.
"We think of ourselves as a Hong Kong company working regionally," states Rechaussat. "Our team is international: We have 11 different nationalities in the studio. Hong Kong is such a melting pot that this is natural. We foster homegrown talent."
Contact the writer at sundayed@chinadaily.com.cn.