Foreign leaders who have visited the Palace Museum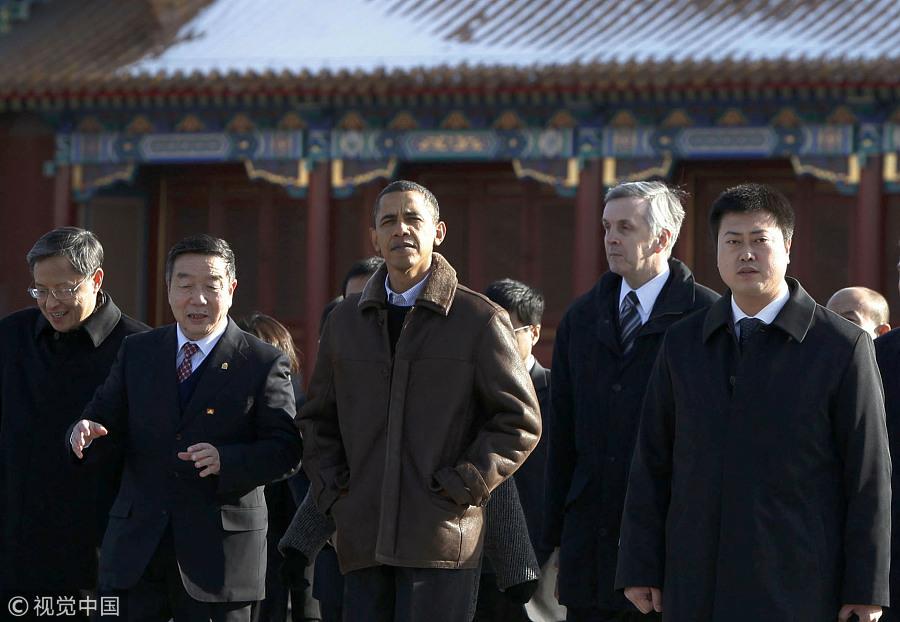 US President Barack Obama, center, is escorted by officials as he tours the Forbidden City in Beijing, Nov 17, 2009.[Photo/IC]
As US President Donald Trump embarks on the first state visit to China, his busy schedule has become the focus of public attention. News came this afternoon that he paid a visit to the capital's landmark attraction, the Palace Museum.
The Palace Museum, also known as the Forbidden City, is a UNESCO World Heritage site. The Forbidden City served as the home of emperors and their households during Ming (1368-1644) and Qing (1644-1911) dynasties, and at the same time it epitomizes the very essence of the Chinese historical civilization. The magnificent architectural complex best exemplifies traditional Chinese palatial architecture, and the vast holdings of paintings, calligraphy, ceramics, and antiquities of the imperial collections make it one of the most prestigious museums in China and the world.
For world dignitaries who visit China, the Palace Museum has practically become a must-see attraction. Here are some of the foreign political leaders who have visited the Palace Museum over the past few decades.