Musicians gear up for deeper Sino-US cultural exchanges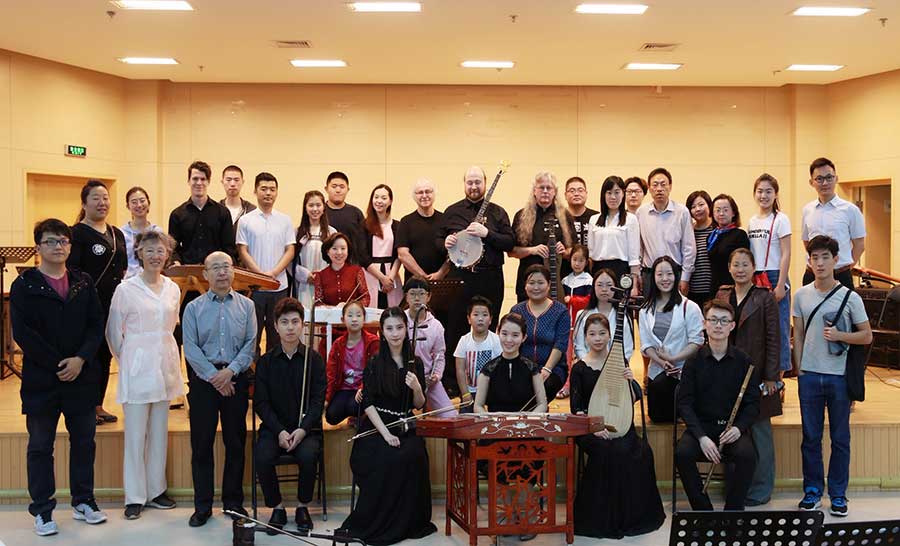 [Photo provided to chinadaily.com.cn]
This project aims to explore an innovative way of facilitating Sino-American cultural exchanges by covering music performance and creation, cultural exchange and experience, and field academic research. Accordingly, a wide range of activities are scheduled, and Chinese and American musicians will visit five Chinese cities: Beijing, Shanghai, Wuhan, Hefei and Qingdao.
Nine theme concerts, several cultural visits, workshops, and exchange activities will be held at four professional concert halls and five prestigious Chinese universities. The last stop will be at the internationally-acclaimed Lincoln Center in New York, where a China-themed concert will be held. The events are so meticulously planned that documentaries, academic reports and news reports will come out of the project.
It is worth noting that the performances in the program are truly transcultural. Many well-known Chinese folk songs are adapted by US musicians and are being presented to audiences, including the jazz version of Jasmine, Listening Moon at Erquan Spring, rearranged by Dennis Friesen-Carper, and a blues version of Kang Ding Love Song. Through this project, not only the many facets of Chinese music culture will be understood and appreciated more by foreigners, but also the musical inspirations in both Chinese and Western culture can be thoroughly exchanged and shared.