UK PM calls for NATO unity amid tensions
Leaders of alliance arrive in London for events linked to 70th anniversary
Events to mark the 70th anniversary of the NATO military alliance got underway in London just nine days before voters in the United Kingdom go to the polls for the Dec 12 election.
The NATO leaders meeting is scheduled to be held at a hotel in North London on Wednesday, when British Prime Minister Boris Johnson is expected to reiterate the importance of the 29-member defense alliance staying united, calling it "the cornerstone of Euro-Atlantic security" that helps "keep a billion people safe", his spokesman said.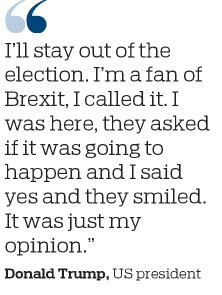 Johnson is set to call for NATO unity amid growing tensions within the military bloc on trade, climate change and the approach to Iran and northern Syria, and Turkey's claim that Kurdish militants are terrorists, a position with which some other NATO members disagree.
NATO members pledge to come to the aid of one another should any of the 29 allies come under attack, but divisions have been exposed, such as Turkey's opposition to a NATO defense plan for Baltic countries, in the event of a possible Russian attack.
Tensions have grown since the election of US President Donald Trump, who has repeatedly complained that NATO members in Europe do not contribute enough to the bloc.
NATO is at a crossroads, said observers, and last month the French President Emmanuel Macron angered some countries by suggesting the alliance is "brain dead".
But NATO estimates for 2019 show there are now eight countries - in addition to the United States - meeting the target agreed by all NATO members to spend 2 percent or more of their gross domestic product on defense.
Trump arrived to join the summit in London on Monday night, and speaking to reporters after a breakfast meeting with NATO Secretary-General Jens Stoltenberg on Tuesday morning, he promised to stay out of the general election, being held amid Britain's complicated Brexit process of leaving the European Union.
Trump, who faces an impeachment inquiry at home and eyes a reelection campaign next year, said he backed Brexit, and even predicted it. But when asked about interfering in the Dec 12 poll, he said: "I don't want to complicate it. I've won a lot of elections for a lot of people."
He said: "I'll stay out of the election. I'm a fan of Brexit, I called it. I was here, they asked if it was going to happen and I said yes and they smiled. It was just my opinion."
Trump criticized the French president for his negative comment on NATO. "France is not doing well economically at all. They are struggling. It's a tough statement to make when you have such difficulty in France.
"You look at what happened with the yellow vests, they've had a rough year, you can't go around making statements like that about NATO. It's very disrespectful," Trump said. "No one needs NATO more than France. The one who benefits the least is really the United States, we are helping Europe. "That's why I think when France makes a statement like they do about NATO that's a very dangerous statement for them to make."
Trump was scheduled to hold separate talks with German and French leaders, and was scheduled to attend a NATO anniversary reception hosted by the queen at Buckingham Palace on Tuesday evening.
jonathan@mail.chinadailyuk.com
(China Daily 12/04/2019 page12)
Today's Top News
Editor's picks
Most Viewed