Macron urges 'deep talks' on NATO
French leader wants upcoming summit to rethink the alliance's strategic goals
French President Emmanuel Macron has urged NATO leaders to hold deep talks on the future scope of the transatlantic security alliance and other critical issues, including efforts to ensure peace in Europe and improve relations with Russia.
At a joint news conference with NATO Secretary-General Jens Stoltenberg in Paris on Thursday, Macron raised questions about the security alliance and said that previous NATO summits had focused too much on military spending rather than on exploring the evolving geopolitics. A summit of NATO leaders will be held in London next week.
"NATO is an organization of collective defense. Against what, against who is it defending itself? Who is our common enemy? What are our common topics? This question deserves clarifications," Macron said.
He called on the signatory states to engage in deeper discussions on issues such as ensuring peace in Europe, arms control with the demise of the Intermediate-range Nuclear Forces Treaty, the relationship with Russia and the management of differences with treaty member Turkey.
"A real alliance is action, decisions - not words. So, I want us to have a real dialogue among allies," he insisted, adding that terrorism is a common enemy for all NATO members.
Wake-up call
In reference to controversial remarks early this month in which he said NATO is suffering "brain death", Macron said they had been intended as a wake-up call to its members, and he will "make absolutely no apology" for saying that.
"I'm glad it was delivered, and I'm glad everyone now thinks we should rather think about our strategic goals," he said.
In the earlier remarks, Macron said a lack of leadership from the United States, as well as poor coordination among treaty partners more broadly, is causing the "brain death" of the military alliance. The claims triggered criticism by some NATO members.
Stoltenberg said that although "there are certainly differences between allies", strong multilateral institutions such as NATO are essential.
"The paradox is that while questions are being asked about the strength of the transatlantic bond, North America and Europe are doing more together than they have done for decades," he said.
Tian Dewen, deputy director of the Institute of European Studies at the Chinese Academy of Social Sciences, said that against the backdrop of what he termed increasing multi-polarization across the world, collective defense systems such as NATO will inevitably become looser. This is because the interest demands of member states are becoming increasingly different.
"Macron actually wants to enrich the alliance with new functions right now, including anti-terrorism efforts, and research and development of defense equipment," he said.
Macron could propose a new set of ideas about NATO's development, but just where the military alliance is heading is still largely determined by the US, Tian said.
Moreover, Macron has a dream of building an independent European army, and France and Germany have talked about defense cooperation for years, he said. But there are few concrete results.
Sven Biscop, director of the Europe in the World Program at the Egmont-Royal Institute for International Relations, a think tank based in Brussels, said that the interests of Europe and the US still overlap most of the time, but less so than before. The US exit from 2015 Iranian nuclear agreement is "clearly an example of how the Trump administration has a policy that directly undermines Europe's strength".
He said that Europe must bolster its own military capabilities and European countries should "do more" and "do it quickly" to integrate their defense efforts.
" (Europe needs) to maintain a close alliance with the US but we must become more capable by ourselves," he said.
AP and Reuters contributed to this story.
chenyingqun@chinadaily.com.cn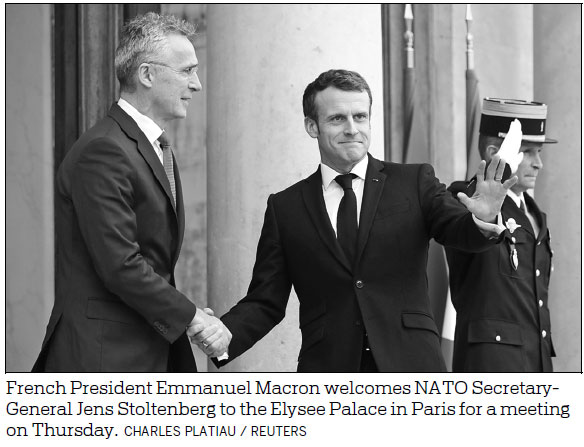 (China Daily 11/30/2019 page7)
Today's Top News
Editor's picks
Most Viewed