Innovative embroidery gaining in global renown
Two thousand years ago, Sichuan embroidery from Chengdu was transported to the West via the ancient Silk Road, becoming a fashion item among royalty in ancient Rome. Today, Sichuan embroidery is again in the global spotlight among art, design and fashion circles.
Sichuan embroidery is one of the top four styles of embroidery in China, along with Suzhou embroidery, Hunan embroidery and Cantonese embroidery, and its technique is one of the oldest. Soft satin and colorful silk are used as major materials for the craft's over 100 kinds of stitching methods.
During the International Festival of the Intangible Cultural Heritage held in Chengdu in October, traditional handicraft featuring Chinese and Western styles were exhibited, including works co-produced by Sichuan embroidery master Feng Guiying and French artists.
A length of decorative wallpaper made in France was adorned with a pattern of peacock feathers embroidered using Sichuan embroidery. The exhibit was well-received by attendees.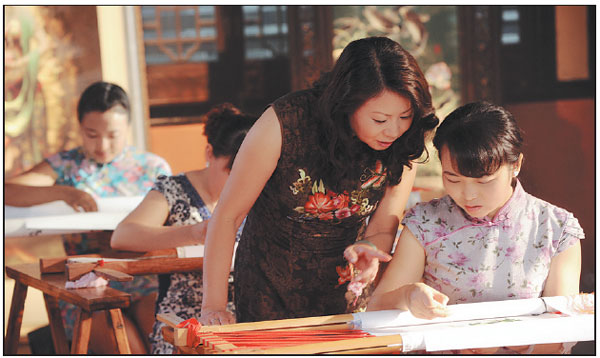 Meng Dezhi, a master of Sichuan embroidery, teaches her students the art. As one of China's top four styles of embroidery, Sichuan embroidery uses soft satin and colorful silk with over 100 kinds of stitching methods.
Eric Benque, a French artist and co-initiator of the Sino-French traditional handicraft cooperation project called "New Classic of Mountains and Seas", named the work Night Peacock.
Before the festival, Benque and seven French artists brought half-completed artworks to inheritors of intangible cultural heritage in Chengdu and asked them to complete the final touches. After the festival, the products will be exhibited in France.
Feng, born in 1963, learned Sichuan embroidery at 18. She worked in a large embroidery workshop until falling profits and competition from cheap, machine-made products forced her to leave and set up her own small embroidery workshop.
In 2006, Sichuan embroidery was listed as a national intangible cultural heritage item. In 2007, Chengdu held the first International Festival of the Intangible Cultural Heritage, which raised the public's interest in traditional arts such as Sichuan embroidery. In 2016, Feng established a new company and began renting a bigger workshop.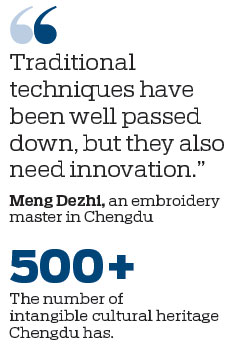 Feng said her workshop aimed to innovate and take a new look at traditional embroidery art. "Traditionally, we adapted our work from traditional paintings like those featuring lotus, carp, pandas and bamboo," she said.
Feng began to use photography and ink and wash painting as an influence for her work. She also cooperated with makers of Tangchang handmade cloth shoes, another intangible cultural heritage item, to design shoes with embroidered patterns. As a result, sellers of the shoes could lift the price from around 150 yuan ($21.25) to around 750 yuan.
Embroidery master Meng Dezhi has also produced her own innovative works, cooperating with British artist Odette Steele.
"Traditional techniques have been well passed down, but they also need innovation," Meng said, adding that cooperation projects in fashion and other areas can promote Sichuan embroidery in the global market.
Meng, also a teacher at Chengdu Textile College, introduced her students to the project too. She said she hoped students can use Sichuan embroidery when designing modern fashionable apparel.
Sheme, a woman's shoe brand from Chengdu, was founded based on designs using Sichuan embroidery.
In September 2013, Sheme attended London Fashion Week, the first time a Chinese shoe brand had entered international fashion circle. Sheme is also the first Chinese shoe brand to feature in a collection by the German Leather Museum.
Chengdu's over 500 well-preserved intangible cultural heritage are giving the city a unique advantage in becoming more fashionable. By combining modern aesthetics and design with traditional skills, more creative cultural products are set to come into being.
(China Daily 11/04/2019 page6)
Today's Top News
Editor's picks
Most Viewed