Court issues 1st parenting class order
A Shanghai court has issued the country's first mandatory order for parenting education to a mother who twice abandoned her son.
He Cuiling, the alias of a migrant worker in Shanghai, was sentenced to three years in prison, with five years probation, in February by the Changning District People's Court for child abandonment.
The court required her to receive mandatory parenting education during her probation. If she completes the order, her prison sentence will be suspended.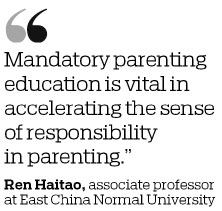 Today's Top News
Editor's picks
Most Viewed