So far, sales skyrocketing for faux meat mooncakes
A plant-based meat company in Beijing said it has sold more than 1,000 boxes of faux meat mooncakes about a week after its new products went on sale online.
Zhenmeat, the alternative meat startup, rolled out 3,000 boxes of mooncakes, each containing six round pastries filled with pea-based meat and priced at 88 yuan ($12) on the Taobao e-commerce platform last Friday ahead of the Mid-Autumn Festival, which begins on Friday this year, according to Lyu Zhongming, founder of the company.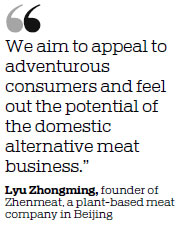 "While the overseas market for substitute meat has developed rapidly, Chinese consumers have just begun to receive exposure to such novel products," he said. "We aim to appeal to adventurous consumers and feel out the potential of the domestic alternative meat business."

Today's Top News
Editor's picks
Most Viewed