Latin American countries ink deal to save rainforest
The Leticia Amazon Pact promises to be the strongest international effort so far to combat Amazon fires and guard the environment.
Signed by delegates from seven of the nine countries with Amazon rainforests this past weekend, the covenant aims to coordinate the governments' efforts to fight deforestation, illegal mining and destructive fires.
The delegates gathered in Leticia, a town in the south of Colombia on the border with Brazil. The presidents of Bolivia, Peru and Ecuador attended the summit, as well as Suriname's vice president and Guyana's natural resource minister. The meeting was hosted by Colombian President Ivan Duque. Brazilian President Jair Bolsonaro, recovering from surgery, could not be there in person but was represented by the Foreign Ministry.
To many people in the region, the seven are aiming for fresh start for the Amazon amid international criticism. "It is first and foremost a political response to the global outcry about the current emergency that the Amazon region is suffering," said Isabel Cavelier, director of vision at Transforma, an environmental consultancy in Bogota, Colombia.
" (This is) a pact that obliges us, commits us and motivates us to protect our Amazon. To do prevention, mitigation, care work, when we have risks or when there are also forest fires," said the Colombian president during the summit. Colombia is the third-largest site of Amazon rainforests, behind Peru and Brazil.
Meanwhile, new satellite images published on Monday by the European Space Agency show an increase in air pollution in the Brazilian Amazon while fires burned in the region last month.
Several maps showed more carbon monoxide and other pollutants in August than in the previous month, when there were fewer fires.
The agency said fires released carbon dioxide once stored in the Amazon forests back into the atmosphere, potentially having an impact on the global climate and health.
Burning continues in the Amazon despite a 60-day ban on land-clearing fires that was announced last month by Brazil's Bolsonaro.
Data from Brazil's National Institute for Space Research showed the number of fires in all of Brazil has surpassed 100,000 so far this year, up 45 percent compared to the same period in 2018.
The author is a freelance journalist for China Daily.
AP contributed to this story.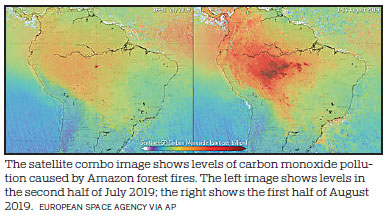 (China Daily 09/11/2019 page12)
Today's Top News
Editor's picks
Most Viewed