Electricity's future on display
Chengdu auto show showcases latest eco-friendly vehicles
Global carmakers showcased their determination to shift toward electrification and prospects of the new energy vehicles in the world's largest auto market at the 22nd Chengdu Motor Show in Sichuan province, running from Sep 5 to 14.
German carmaker Mercedes-Benz announced on Thursday that the Mercedes-Benz EQC, its first fully electric sports utility vehicle model, opens to booking. The EQC is scheduled to be delivered to Chinese customers in November as German auto giant dashes forward into electrification.
Equipped with the MBUX intelligent man-machine interactive system, the EQC can optimize navigation routes based on the real-time information about energy consumption, road conditions and the service condition of charging stations.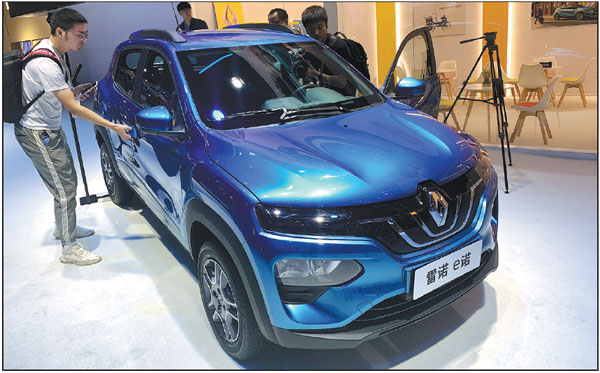 Dongfeng Renault Automotive Company launches its first electric car K-ZE at the Chengdu auto show. Cao Yingying / China Daily
Mercedes-Benz said it is to provide tailored electric auto services for Chinese customers, including installing intelligent charging piles, providing public charging piles and Mercedes-Benz exclusive charging stations, as well as a 24-hour road rescue charging service.
BMW is another German auto magnate that affirmed its determination to develop electrification.
"BMW has announced that by 2023, it will launch 25 electric vehicle models. And most of them will come to China," said Johann Wieland, president and CEO of BMW Brilliance Automotive, in an interview at the Chengdu auto show.
Its joint venture in China, BMW Brilliance will produce the BMW iX3 - the first fully electric model of the BMW X family - in Shenyang next year, which is a big step for the company. The BMW iX3 is produced for the world, Wieland added.
With the country cutting subsidies for new energy vehicles in late June, the new energy vehicle sector has shown signs of a slowdown. According to the China Association of Automobile Manufacturers, sales of new energy vehicles in China fell for the first time in 30 months, sliding 4.7 percent in July from a year earlier.
The association cut its whole-year sales estimate from 1.6 million to 1.5 million for the new energy vehicle sector.
Facing fluctuations in the Chinese new energy market, Wieland noted that the long-term trend of electrification is absolutely right, and that he believed the sales of electric cars and hybrids will continue growing.
The CEO added that the new energy market needs sustainable solutions, which refer to high-quality products, solid working processes, correct company structures and an appropriate level of growth.
"We have seen a lot of electric car startups. And so far, they have used a lot of money," Wieland noted. "Now, it looks like that they are running out of money. If you want to change, you have to create a sustainable solution here for China, which is also the same all over the world."
Chris Chen, vice-president of Chery Jaguar Land Rover, has similar concerns.
He said that with policy changes and traditional carmakers launching more new energy products, electric startups are facing fiercer competition and feeling the pressure associated with the great challenges of operation and management.
"The new energy vehicle sector still will develop at a high speed since its market share is too low in China," Chen said.
Chery Jaguar Land Rover plans to provide electric variants for all of its models by 2020, said Murray Dietsch, president of Chery Jaguar Land Rover, at the auto show.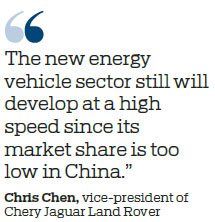 The comapny's Changshu plant in Jiangsu province is being prepared for the production of the new energy vehicles.
To take a share of the spoils in Chinese new energy vehicle market, carmakers are also utilizing their global resources to assuage customers' concerns about mileage and safety problems.
Sino-French joint venture Dongfeng Renault Automotive Company launched its first electric car, K-ZE at the Chengdu auto show, with a suggested retail price from 61,800 yuan ($8,688).
Wei Wenqing, the new executive vice-president of Dongfeng Renault, said suitable mileage is better than long mileage for electric vehicles.
"Electric vehicles carrying heavy battery packs sometimes is a waste. The small electric SUV K-ZE is designed with the range of 271 kilometers at a balance point," Wei said on Thursday.
As one of the world's leaders of electric vehicles, Renault has now sold more than 250,000 units, with zero fire accidents.
Although the joint venture is relatively new in China, the resources of Renault-Nissan-Mitsubishi Alliance and Dongfeng Renault will spur the addition of more electric models covering different segments in the coming years to provide safe products to Chinese customers, Wei added.
The event showcases other electric products including GAC NE's intelligent SUV Aion LX, GAC Honda's first mass-produced pure electric sedan iA5, Aiways' U5 SUV and Xpeng Motors' P7 model, which plans to deliver in first half of next year.
Some carmakers believe the electric technology is not mature yet to meet high demands of driving performance and the passion of acceleration.
Francesco Scardaoni, managing director of Lamborghini China, said in an interview the weight of the pure electric power system affects the handling of sports cars, and performance-wise, cannot last long. Scardaoni said such restrictions are not acceptable for Lamborghini's sports cars.
The luxury brand will consider electric technology in the future, when there are greater technological breakthroughs.
They plan to launch a new model with hybrid power system at the transition period, Scardaoni said.
According to the event's organizers, more than 130 automakers have showcased over 1,600 vehicles at the ongoing Chengdu auto show to attract customers and expand the auto market in Southwest China.
Contact the writers at caoyingying@chinadaily.com.cn and zhangdandan@chinadaily.com.cn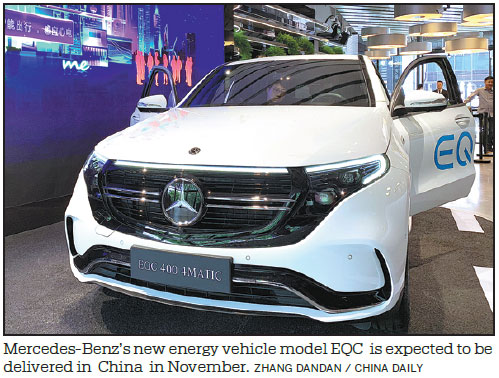 (China Daily 09/09/2019 page18)
Today's Top News
Editor's picks
Most Viewed