Festival has an oriental flavor
Frankfurt embraces exchanges with culture old and new at 'Chinafest' event
FRANKFURT - As the graceful and iconic first bars of much-loved Chinese song My Motherland and Me rang out across the square, excitement stirred among the many assembled overseas Chinese, catching the attention of numerous passers-by.
The performance was in aid of the inaugural Frankfurt Chinese art and cultural festival, or "Frankfurt Chinafest", which got underway on Aug 30 in the city center, celebrating the 70th anniversary of the People's Republic of China. The expansive bill of performances and activities was aimed at providing locals and visitors alike with a taste of Chinese culture.
Decorated with Chinese dragons and red lanterns, the main stage hosted more than 70 performances running up to the final evening on Sept 1.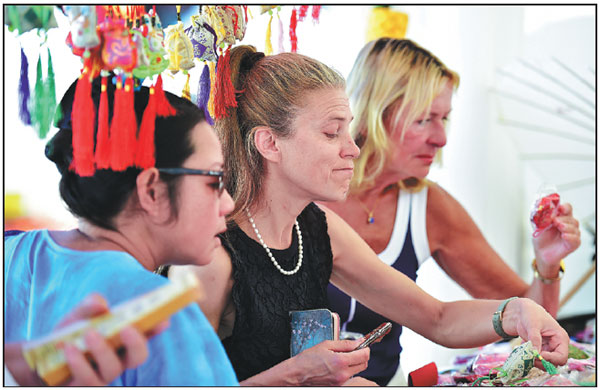 Frankfurt residents shop for traditional Chinese decorations during the Chinese art and cultural festival about a week ago. Photos by Lu Yang / Xinhua
Surrounding the main stage were tents and booths filled with authentic Chinese snacks and information and activities about China.
In one of the tents, folk artist Dai Wulin impressed visitors with his intricate sugar paintings. Through skill and practice Dai is able to spin and shape melted sugar into anything he has his mind. One customer was particularly impressed by Dai's hardened sugar dog.
"In less than an hour, we sold about 10 pieces," said Dai, who had been invited from East China's Jiangsu province to Germany to attend the event.
Not far from Dai's booth, a group of girls prepared for a kung fu performance. One German participant, 19-year-old Alessia, has been learning Chinese kung fu for two years. It all started with her seeing a Chinese kung fu video online that "was jaw-droppingly beautiful", she recalled.
"I have always wanted to go to China to see the Shaolin Temple. This is a good event for cultural exchanges," she said.
Alessia and her peers performed Shaolin fist and sword play for the audience, said her coach, Shi Yanbing, from the Frankfurt Shaolin Martial Arts Center. "For the five-minute show, we prepared for three whole weeks," he said.
The weekend-long event featured not only traditional Chinese arts such as kung fu and Peking Opera, but also modern dances, live bands and even a DJ, from both local Chinese and German communities.
At the opening ceremony, Lu Qizhi, Chinese deputy consul general in Frankfurt, said the local Chinese community has made important contributions to the local society, as well as put great effort into presenting Chinese culture.
"Today's Chinafest is again a good example of such efforts," he said.
Claus Moebius, a representative from the local government, said the 12,000 Chinese living in Frankfurt are an important part of the city. In recent years, Frankfurt has seen more and more Chinese tourists visit the city, he said.
It is hoped that locals and visitors to Frankfurt will take the opportunity of the festival to learn more about and fall in love with this fascinating country, Moebius said.
Xinhua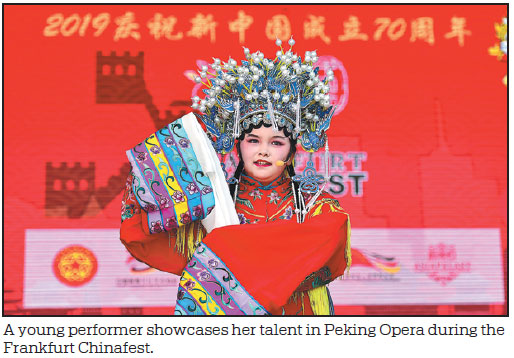 (China Daily 09/07/2019 page15)
Today's Top News
Editor's picks
Most Viewed