Chinese tourists take to German attractions
China has become Germany's second-largest inbound tourism market, contributing 3.8 billion euros ($4.19 billion) to the European country's tourism revenue last year, The Beijing News quoted the German National Tourist Board as saying.
Petra Hedorfer, CEO of the GNTB, announced Germany's inbound tourism data at the recent Germany Travel Mart, an annual industry gathering.
China, as the second-largest tourism source of Germany, maintained growth in 2018, with room night figures reaching 3.02 million last year, an increase of 5.6 percent from 2017.
The room night statistic is used in the hospitality industry to measure occupancy. It is equivalent to the number of occupied or reserved guest rooms in a hotel multiplied with that of nights spent in the rooms.
The increase in Chinese travelers' room nights in Germany was higher than that of total foreign tourists, as well as those from Europe alone.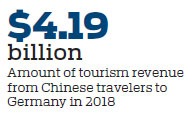 Data from the World Tourism Organization found the number of international tourists to Germany increased 5 percent in 2018 from a year earlier, ranking the country among the 10 most popular destinations globally.
Of international visitors to Germany, nearly 59 million are from other European countries.
Germany saw an upswing in both its inbound business and leisure travel markets last year. International travelers tended to stay longer and spend more on their visits to Germany in 2018 than before, according to the GNTB.
Germany is becoming a destination favored by the young generation. The country saw an 8.5 percent year-on-year increase in the number of travelers aged between 15 and 34 in 2018.
The GNTB found that young visitors opted for online platforms for inquiries and reservations.
About 63 percent of the European bookings were made online. When it comes to other regions outside Europe, online bookings accounted for 80 percent.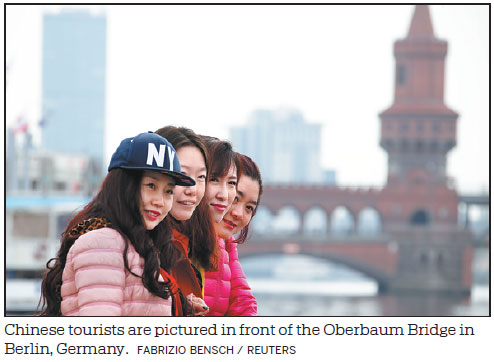 (China Daily 09/07/2019 page14)
Today's Top News
Editor's picks
Most Viewed