Ties between nations buck growing world trend of unilateralism
German investment in China jumped 72.4 percent year-on-year in the first seven months of 2019, creating strong momentum for the two countries to further generate growth points in areas including manufacturing and services.
Investment in technology-based services and high-end product trade such as cloud platforms, smart manufacturing, sensors and industrial automation accounts for a growing proportion of German investment in China, said Sun Fuquan, a researcher at the Beijing-based Chinese Academy of Science and Technology for Development.
He said even though anti-globalization is on the rise and European integration is suffering setbacks, China and Germany share a common stance on major global issues such as economic globalization and multilateralism.
Attracted by China's demand to upgrade its industries, German software and cloud giant SAP is scrambling to offer more localized services in China, the fastest-growing market for the company.
SAP introduced a new commerce cloud in China in June to help local enterprises speed up their digital transformation.
The move came after SAP spent nearly $70 billion in the past 10 years to transform itself from a traditional software company into a competitive cloud service provider.
"To win in business today you have to provide a remarkable experience for your customers and evolving to the cloud is essential to doing that," said Mark Gibbs, SAP's president for China.
Vorwerk& Co KG, the Wuppertal-headquartered manufacturer of household appliances and cosmetics, is to expand its manufacturing base in Shanghai.
It will set up 25 to 30 customer experience centers across China this year.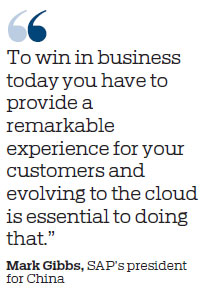 Many opportunities come from Chinese consumers' rising incomes and accelerating urbanization in the country, said Zha Sheng, Vorwerk's general manager for China. These factors have been driving demand for more diversified food and diets, beverage and cleaning products.
The company is currently planning to expand its manufacturing facility in Shanghai's Qingpu district and enhance its logistics network, as the Yangtze River Delta region has a sound industrial system and attractive market.
Zha said a significant amount of Vorwerk's global research and development resources and capital expenditure will be focused on China.
"In comparison with consumers in other markets, we found that Chinese customers are incredibly inquisitive and hungry for information. They want to embrace new technologies and are fairly open to disruptive products," he said.
"German companies' confidence has also been boosted by the establishment of more intellectual property rights courts at central and provincial levels starting this year," said Sang Baichuan, director of the Institute of International Business at the University of International Business and Economics.
(China Daily 09/07/2019 page13)
Today's Top News
Editor's picks
Most Viewed