1 dead after stabbing spree in central Sydney; suspect arrested
SYDNEY - A woman was killed and at least two others were injured after a man brandishing a knife went on an apparent stabbing rampage in Sydney's Central Business District on Tuesday afternoon, Xinhua reported.
Witnesses said the man was carrying a 30-centimeter kitchen knife and yelled "Allahu akbar", which means "God is great" in Arabic, as he attempted to stab multiple people near a busy intersection in Australia's largest city.
The man was restrained by pedestrians and arrested.
Police have not labeled the rampage an act of terrorism. New South Wales state Police Commissioner Michael Fuller said: "It is not currently classed as a terrorist incident. Obviously as the investigation continues we will reassess that."
Police said a 41-year-old woman with a stab wound to her back was taken to a hospital in a stable condition. They said the body of a 21-year-old woman was later discovered in a nearby fourth-floor apartment at around 3:15 pm.
In a statement, the Consulate-General of China in Sydney confirmed that a Chinese national had been injured during the attack.
Although it is still not clear if the incidents are linked, all three attacks occurred in close proximity.
According to New South Wales State Police, at about 2 pm, emergency services responded following reports of a man was walking along York Street armed with a knife.
Large knife
Footage posted on social media shows a man yelling and waving the large knife, before being apprehended by members of the public.
In the video, the assailant jumped on top of a car and faced off with a member of the public who used a chair to defend himself.
Later, bystanders including a firefighter used implements such as chairs and a crate to restrain the offender before authorities arrived on the scene.
An Uber driver said the assailant jumped on the hood of his Mercedes as he was driving an elderly couple down the street where the violence unfolded. The driver, who did not give his name, told Nine Network News that the suspect fell off the car when he accelerated and turned down a side street.
A witness said the man was screaming comments about religion, before yelling to police that he wanted to be shot. Police said he used the phrase "Allahu akbar".
"A number of members of the public physically restrained the offender," Police Superintendent Gavin Wood said. "I want to acknowledge those members of the public who got involved. They were significantly brave people."
Offering his gratitude to the heroic Sydneysiders who intervened to stop the alleged attacker, Australian Prime Minister Scott Morrison took to social media to praise their actions.
"The violent attack that took place in Sydney this afternoon is deeply concerning," he said.
" (But) the attacker is now in police custody following the brave actions of those who were present at the scene and were able to restrain him."
Although police said there was no longer a threat to the community, several Sydney streets remain on lockdown with numerous crime scenes established in the area.
Xinhua - Agencies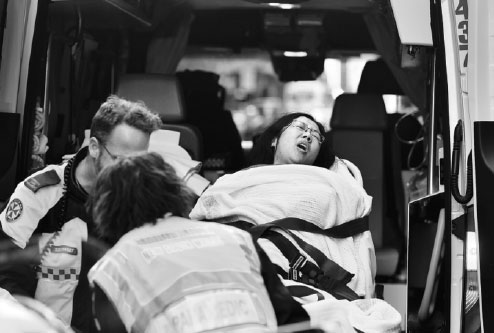 A woman is placed into an ambulance by paramedics in Sydney, on Tuesday, after a man stabbed multiple people.Dean Lewins / Epa
(China Daily 08/14/2019 page11)
Today's Top News
Editor's picks
Most Viewed