Suspect in mosque attack filmed the shooting
OSLO - The man suspected of shooting at people inside a Norwegian mosque on Saturday, and of killing his Chinese-born stepsister, appeared in court on Monday with black eyes and wounds on his face and neck.
A judge gave police permission to hold 21-year-old Philip Manshaus in custody for an initial four weeks while he is investigated on suspicion of murder and breach of an anti-terrorism law, the court's ruling later showed.
Manshaus, who briefly smiled at photographers, does not admit to any crime, his lawyer said.
Witnesses said Manshaus entered the al-Noor Islamic Center with several guns, but was overpowered by a 65-year-old member of the mosque, who managed to wrestle away his weapons in the fight that followed.
Manshaus wore a helmet camera that filmed the shooting, but did not appear to have broadcast the attack, according to prosecutors.
"This video is key evidence," police attorney Paal-Fredrik Hjort Kraby told a news conference.
Manshaus, whose home is near the mosque just outside the Norwegian capital, had expressed farright, anti-immigrant views before the attack, police said.
Online postings under Manshaus' name, made shortly before the attack, expressed admiration for the massacre of more than 50 people at two New Zealand mosques in March by a suspected white supremacist, who filmed and broadcast the killings live online.
It could not independently be verified that the postings were made by Manshaus.
A few hours after the Norwegian mosque attack, police discovered the body of a young woman at the suspect's address. Police later named her as his stepsister, Chinese-born Johanne Zhangjia Ihle-Hansen.
The 17-year-old was adopted as a small child by a Norwegian woman, who is now married to Philip Manshaus' father, the woman's lawyer said.
"These hours after what happened have been chaotic, unreal, a tragedy," said the lawyer, Elisabeth Hagen.
"These are two tragedies, one with the girl and one with the mosque. I represent the mother of the girl," she said, adding that the girl's mother and Manshaus' father were together and surrounded by friends helping them cope.
Hagen declined to comment on any possible motive for the killing.
Manshaus did not speak while reporters were present, and has so far declined to talk to the police.
Agencies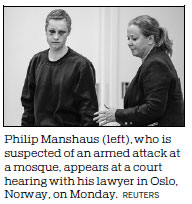 (China Daily 08/14/2019 page11)
Today's Top News
Editor's picks
Most Viewed