Disused electric car batteries to be repurposed for storage
Manufacturers look at new ways of processing, utilizing old power units
Electric car companies and battery makers are exploring new ways to recycle used batteries as China braces for a wave of them being taken out of service.
China is the world's largest market for new energy vehicles, with around 3.5 million electric cars and plug-in hybrids on its roads.
Batteries on electric vehicles usually have a life span of around six years. Those put out of service are expected to reach 240,000 metric tons by 2020, according to a report from China Merchants Securities.
In the past, batteries were usually broken down, with some parts recycled. Now some companies are planning to make the most of them, which though not powerful enough for vehicles any longer are good enough to serve as power storage systems.
Daimler AG's subsidiary Mercedes-Benz Energy and Beijing Electric Vehicle intend to establish energy storage systems in China with disused batteries from the Chinese electric carmaker, with the first one in Beijing, according to a statement on Thursday.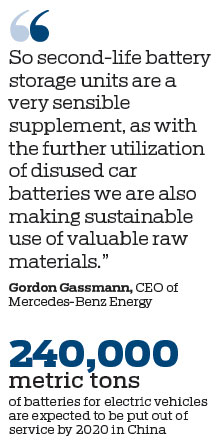 Both companies started research and development on utilizing disused batteries in 2016. BJEV is the largest electric carmaker in China, with more than 400,000 vehicles on Chinese roads.
Mercedes-Benz Energy's large-scale storage applications include load peak compensation to uninterrupted power supply.
Gordon Gassmann, CEO of Mercedes-Benz Energy, said there are wide-ranging opportunities for stationary energy storage systems worldwide because of the increasing distance between power plants and sites of energy consumption.
"So second-life battery storage units are a very sensible supplement, as with the further utilization of disused car batteries we are also making sustainable use of valuable raw materials," said Gassmann.
Together with its partners, Daimler has already put three mass storage devices with a total energy of 40 MWh from car battery systems into the German grid.
Mercedes-Benz Energy said its engineers will demonstrate in the coming months such units will also be able to support the Chinese power grid.
Ye Xiaohua, deputy general manager of BJEV, said electrified vehicles are more than vehicles and are becoming a new tool of energy management as well.
In 2016, the carmaker established Beijing Articore Battery to study the utilization of second-life batteries.
Beijing Articore Battery is working on how to utilize disused batteries for telecommunications base stations, highway renewable energy stations and mobile energy storage units.
It said research into micro-grid energy storage is also planned.
Battery makers are making inroads into the sector as well.
Two days ahead of BJEV and Daimler's statement, a power storage system started operation in Shenzhen, Guangdong province, after four months of construction.
It was co-built by Shenzhen Bak Battery and China Southern Power Grid using disused Bak batteries which were previously used to power electric vehicles.
Bak said the system will help reduce the fluctuation of power supplies between peak and trough periods.
The project was billed as a landmark in its energy storage business and the two companies said they will conduct further cooperation in this area.
Xiang Chaoyao, president of the energy storage business unit at Bak, said, "So far our storage products are sold to many countries in Asia, Europe and Africa, with the total capacity reaching around 200 MWh."
He said Bak's production capacity in this aspect will reach 1 GWh by 2020 because energy storage is one of three pillars of the company's business.
Svolt, a battery maker spun off from China's largest SUV maker Great Wall Motors, said utilization of disused batteries as well as energy storage would be one of its core businesses as well.
The Chinese authorities are also encouraging energy storage.
In a guideline issued in early July, the National Development and Reform Commission called for efforts to further promote the development of energy storage to make China a leading country in this aspect in five-to-10 years.
The guideline covers items from research and development to demonstration projects and formulating relevant standards.
Among others, it said the National Energy Administration will lead efforts to conduct studies on electric car charging facilities and the power grid. The commission itself will facilitate charging-while-parking programs to lay a foundation for energy storage in new energy vehicle batteries.
lifusheng@chinadaily.com.cn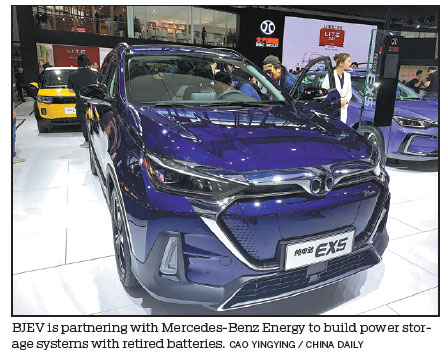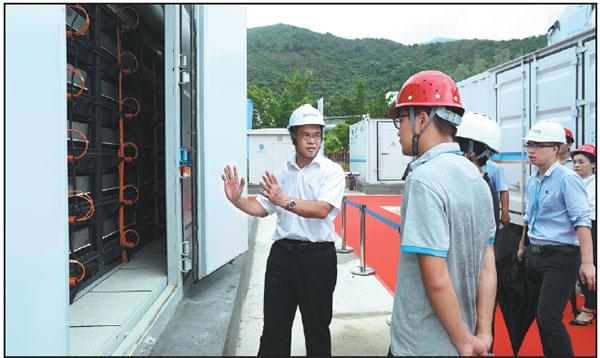 A power storage system built by Shenzhen Bak Battery and China Southern Grid starts operation last week in Guangdong province. Provided to China Daily
(China Daily 08/12/2019 page18)
Today's Top News
Editor's picks
Most Viewed