Younger people fueling a boom in local cultural tourism industry
People born in the 1980s and 90s are now the most active consumers of culture and tourism products in Beijing. Those in the post-95 generation, especially the millennials, are catching up, according to a newly released report.
The report was released at the 2019 High-end Forum on Cultural and Tourism Integration and Development held by the Beijing Culture and Tourism Bureau and Beijing International Studies University. It is based on the data of 1 million tourists provided by online travel company Tongcheng-Elong.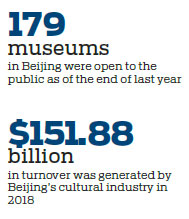 In Beijing, it notes that men spent more money on tourist products than women, as they make up 50.8 percent of total tourist product consumption.
The post-80s and post-90s generations are the main buyers of online tourism products. They account for 51.4 percent, with the post-95 and millennial consumers taking up 15.8 percent.
When it comes to cultural products, the gender structure is the same as that of tourist products, but the age structure is different. For example, 41 percent of people who can afford to go to the theater are more than 40 years old. Only about 1 percent are under 19 years old.
Li Xinjian, a professor at Beijing International Studies University, said that Beijing has great advantages in cultural tourism resources. The city's future of culture and tourism integration is promising, he added.
Official data show that by the end of December 2018, Beijing housed 179 museums - of which, 82 were free of charge - 20 cultural centers and art galleries, 253 A-rated tourist attractions, seven world cultural heritage sites, 128 major historical and cultural sites protected at the national level and 357 at municipal level.
According to the Beijing Bureau of Statistics, the turnover of Beijing's cultural industry reached 1.07 trillion yuan ($151.88 billion) in 2018. In the leisure industry, which is closely related to the tourism industry, turnover reached 9.98 billion yuan.
The report stresses that Beijing, a city where creative people from all over the world gather, is leading cultural innovation. New creative cultural products are springing up and injecting life into the city's cultural and tourism industry.
In recent years, Beijing has spawned intellectual property in the creative cultural industry. The Palace Museum added a twist to traditional culture through its gift shop. Meanwhile, the 798 Art Zone has transformed itself from an art enclave to an international hub of contemporary art.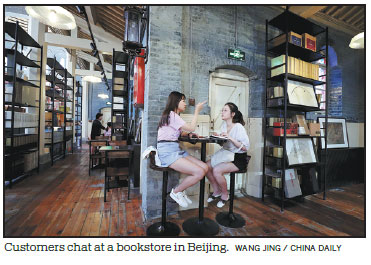 (China Daily 08/12/2019 page7)
Today's Top News
Editor's picks
Most Viewed