Beijing lights up night with consumption season
Evening activities are being held across the capital aimed at bringing residents joy
Visitors to China's capital city can now experience more than 60 nighttime activities during the seventh Beijing People's Beneficial Cultural Consumption Season, which runs from July 31 to late September.
This year, the long-standing event, which encourages people in the city to take part in cultural events, carries the theme "Enjoy Culture, Enjoy Life".

Held annually since 2013, this cultural season is organized by the Beijing State-owned Cultural Assets Supervision and Administration Office, and the city's authorities of culture and tourism, radio and television, and cultural heritage, in association with 19 government agencies and 16 districts.
"We are working to get people of all ages interested in cultural consumption and improve their quality of life," said Dong Dianyi, deputy director of the Beijing State-owned Cultural Assets Supervision and Administration Office, at a news conference held on July 30. "This time, we have launched a host of nighttime offerings to meet the growing demand of consumers after dark."
Many shopping malls, cinemas and parks will extend their opening hours to answer the demand for services between 6 pm and 6 am, Dong added.
One of the highlights of the season, the 2019 Beijing Cultural and Creative Products Expo, which runs from July 31 to Aug 4 at 751 D-park in the 798 Art Zone, has become a unique and trendy destination for Beijing residents to enjoy the vibrant night life.
In addition to forums, workshops and exhibitions in the daytime, themed fairs are taking place at D-park from 5 pm to 9 pm during the season.
At the Wenhui fair in D-park, visitors can buy beer, specialty dishes and creative goods with discount coupons given out by the organizing committee.
During the season, coupons worth 2 million yuan ($283,910) in total value are provided to residents for spending on cultural and creative products and those associated with intangible cultural heritage.
"Enterprises are providing a total of 100 million yuan in the form of cash back, discounts, and goods and services for free," Dong said.
At D-park, the popular restaurant Precious Moment Botanica invited guests to appreciate epiphyllum - also known as Queen of the Night cactus, and fashion designer Liu Wei held evening design salons and lectures.
The Capital Museum held a night tour on Aug 7 and will soon extend its opening time on Saturday to 8 pm. On nights from Friday to Sunday, the UCCA Center for Contemporary Art is open until 9 pm, with the number of visitors on evenings during the weekend accounting for 10 percent of the whole day.
A series of nighttime sightseeing activities are also being held at major tourist spots, such as Xiangshan Park, Beihai Park and Jingshan Park.
Fashionable locations such as Huaxi Live Wukesong and venues in Sanlitun are holding cultural fairs showcasing handicrafts, intangible cultural heritage products and traditional art performances.
Rich variety
More than 200 cultural activities are to be held over the two months, in celebration of special occasions ranging from the 70th anniversary of the People's Republic of China, the Beijing International Horticultural Exhibition, the 2022 Beijing Winter Olympics and the construction of the three cultural belts along the Grand Canal, the Great Wall and the Western Hills.
Among them are 20 large-scale exhibitions and themed activities on culture and art, radio and film, digital creativity and art trade, designed to fuel people's appetite for cultural services.
They include the National Centre for the Performing Arts Art Tour, the Beijing Contemporary Art Exhibition, the Beijing International Book Fair, the Beijing Golden Autumn Cultural Relics and Art Auction Month, the Beijing International Fashion Life Fair and Grand Canal Drama Carnival.
Moreover, 300 performances and thousands of films are being staged and played in partner theaters and cinemas such as the National Centre for the Performing Arts and the Jackie Chan Cinema.
"Consumers can watch movies and buy cultural products and services at preferential prices, with benefits upgraded to more than 100 million yuan this year," said Dong Ming from the Beijing Radio and Television Bureau.
Beijing's 16 districts have got involved, unveiling activities to provide residents with more choices other than dining and shopping.
For instance, Xicheng district has joined forces with cultural venues such as the Star Theatre to hold more than 50 performances. Chaoyang district is hosting a drama festival for college students and Haidian district is holding a children's performance season.
This year's season in Beijing also has a strong influence on culture-related sectors in Tianjin and Hebei province, with branch venues being set up.
On July 31, representatives of the Capital Cultural Industry Association, the Tianjin Culture Media Association and the Hebei Cultural and Tourism Industry Association signed a framework agreement to jointly promote cultural consumption and cultural industry development.
yinruowei@chinadaily.com.cn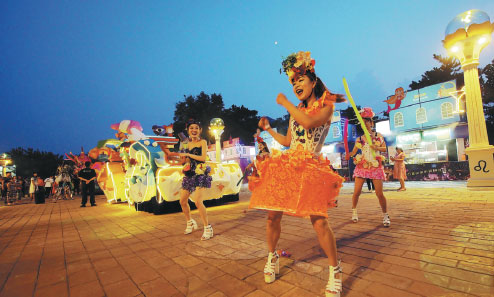 A summer night carnival is held at Beijing Shijingshan Amusement Park, as part of the city's drive to increase its nighttime economy.Du Jianpo/for China Daily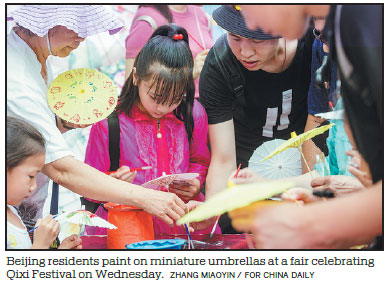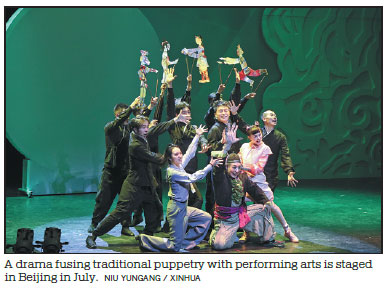 (China Daily 08/12/2019 page7)
Today's Top News
Editor's picks
Most Viewed